Adjudicator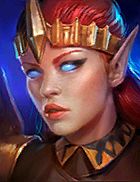 Isolation Cell
Attacks 1 enemy. Has a 20% chance of placing a 50% [Heal Reduction] debuff for 2 turns.
Damage based on: [ATK]

Slowing Sanction
Cooldown: 4 turns
Attacks 1 enemy. Has a 50% chance of decreasing the Turn Meter by 20%.
Damage based on: [ATK]

Penalize
Cooldown: 5 turns
Attacks 2 times at random. Has a 50% chance of increasing the cooldown of one of the target's Skills by 1 turn at random.
Damage based on: [ATK]

Aura
Increases Ally ACC in all battles by 40
Lore
The Elven Kingdom of Aravia is among the most advanced civilizations that Teleria has ever seen, but maintaining this gleaming jewel of order and prosperity is no easy task. Apart from the common thieves, brigands, and all other kinds of scum, disputes between merchants and guilds are commonplace. Some do not shy away from using hired muscle or even assassins to gain an advantage over their competition. To ensure crime does not run rampant, the institution of Adjudicators has been granted significant authority and freedom. Warriors all, they will turn their sights to anyone who breaks Aravian law. Capture is often their preference, and to that end they have developed a variety of techniques to cripple and wrong-foot their foe. But Adjudicators do not shy away from fulfilling the role of the executioner or taking up arms in earnest should the need arise.
Ratings of Adjudicator
Location
Rating
Campaign
Arena
Offensive:
Defensive:
Clan boss
Without T6 mastery:
With T6 mastery:
Ice Golem's Peak
Dragon's Lair
Spider's Den
Fire Knight's Castle
Minotaur's Labyrinth
Force Keep
Magic Keep
Spirit Keep
Void Keep
Masteries advices
Advices regarding the mastery choice for Adjudicator.
T6: Warmaster or Giant Slayer?
Clan Boss
We don't have enough information about Adjudicator to determine whether he should have Warmaster or Giant Slayer as T6 mastery.
Arena
We recommend using Warmaster in the Arena, despite the number of hits any skill from Adjudicator does.
Recommended builds for Adjudicator
For Arena, Campaign, Faction Wars
by ayumilove
ATK%, C.RATE, C.DMG, SPD, ACC
ATK%, C.RATE, C.DMG, SPD, ACC
ATK%, C.RATE, C.DMG, SPD, ACC
ATK%, C.RATE, C.DMG, SPD, ACC
For Arena, Campaign, Faction Wars
by ayumilove
ATK%, C.RATE, C.DMG, SPD, ACC
ATK%, C.RATE, C.DMG, SPD, ACC
ATK%, C.RATE, C.DMG, SPD, ACC
ATK%, C.RATE, C.DMG, SPD, ACC
For Clan Boss, Dungeons
by ayumilove
ATK%, C.RATE, C.DMG, SPD, ACC
ATK%, C.RATE, C.DMG, SPD, ACC
ATK%, C.RATE, C.DMG, SPD, ACC
ATK%, C.RATE, C.DMG, SPD, ACC
---
Updated on 2021-03-28