Adriel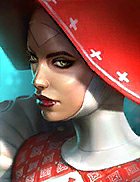 Humiliate
Attacks 1 enemy. Has a 20% chance of placing a [Decrease ACC] debuff for 2 turns.
Damage based on: [ATK]
Level 2 Damage +5%
Level 3 Damage +5%
Level 4 Buff/Debuff Chance +59
Level 5 Buff/Debuff Chance +10

Curtain of Light
Cooldown: 4 turns
Heals all allies by 20% of their MAX HP and places a 30% [Reflect Damage]
Level 2 Heal +5 Levelbr>Level 4 Heal +10
Level 5 Cooldown -1

Blinding Flash
Cooldown: 6 turns
Attacks all enemies. Has a 50% chance of placing a 50% [Decrease ATK] debuff for 2 turns. Has a 100% chance if this attack is critical.
Damage based on: [ATK]
Level 2 Damage +5%
Level 3 Damage +5%
Level 4 Damage +10%
Level 5 Damage +10%
Level 6 Cooldown -1

Aura
Increases Magic Ally SPD in all battles by 21%
Lore
Even among the ranks of Chaplains of the Sacred Order, Adriel is known for her ardent faith and unflinching resolve. Where some priests prefer to tend to the spiritual wellbeing of their own warriors, Adriel can always be counted upon to join the vanguard. Her loud proclamations of contempt and promises of damnation have been known to demoralize many a foe, paving the way to easy victory for her allies. But charisma is not Adriel's only weapon. By Lumaya's light, she can blind the enemy, sowing confusion and weakening their attacks. The same grace allows her to close wounds with but a touch and enchant her allies' armour to reflect attacks back at those would seek to harm them.
Ratings of Adriel
Location
Rating
Campaign
Arena
Offensive:
Defensive:
Clan boss
Without T6 mastery:
With T6 mastery:
Ice Golem's Peak
Dragon's Lair
Spider's Den
Fire Knight's Castle
Minotaur's Labyrinth
Force Keep
Magic Keep
Spirit Keep
Void Keep
Masteries advices
Advices regarding the mastery choice for Adriel.
T6: Warmaster or Giant Slayer?
Clan Boss
We recommend using Warmaster, the skill Humiliate hits 1 time, which will benefit more to Warmaster than Giant Slayer.
Arena
We recommend using Warmaster in the Arena, despite the number of hits any skill from Adriel does.
Recommended builds for Adriel
For everywhere
by ayumilove
HP%, DEF%, C.RATE, ACC, SPD
HP%, DEF%, C.RATE, ACC, SPD
HP%, DEF%, C.RATE, ACC, SPD
HP%, DEF%, C.RATE, ACC, SPD
HP%, DEF%, C.RATE, ACC, SPD
Masteries for Adriel
For Arena, Campaign, Clan Boss, Dungeons, Faction Wars
by ayumilove
Fusions
Adriel is not part of any fusion
---
Updated on 2021-03-28