Alika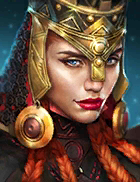 Gap Shot
Attacks 1 enemy. Has a 30% chance of placing an extra hit. This hit is always critical.
Damage based on: [ATK]
Level 2: Damage +5%
Level 3: Damage +5%
Level 4: Buff/Debuff Chance +5%
Level 5: Damage +5%
Level 6: Damage +10%
Level 7: Buff/Debuff Chance +5%
Level 8: Buff/Debuff Chance +10%

High Value Target
Cooldown: 4 turns
Attacks 1 enemy. Ignores 50% of the target's DEF if their MAX HP is higher than this Champion's MAX HP.
Damage based on: [ATK]
Level 2: Damage +5%
Level 3: Damage +5%
Level 4: Damage +5%
Level 5: Damage +5%
Level 6: Cooldown -1
Level 7: Cooldown -1

Disorient
Cooldown: 4 turns
Attacks all enemies. Has a 75% chance of increasing the cooldowns of all enemy skills by 1 turn.
Damage based on: [ATK]
Level 2: Damage +5%
Level 3: Damage +5%
Level 4: Buff/Debuff Chance +5%
Level 5: Buff/Debuff Chance +5%
Level 6: Damage +10%
Level 7: Buff/Debuff Chance +15%
Level 8: Cooldown -1

Devoted Sister
Cooldown: 7 turns
Revives this Champion with 75% HP when killed. (Only available when Sikara is on the same team)
Lore
Personifying the tactics of many nomadic Barbarian tribes, Alika comes from the ranks of Ambushers – a somewhat basic, but very apt name – are an elite cadre of warriors that specialize in hit-and-run tactics both on horseback and on foot. These usually come from the ranks of tribal nobility, or warriors that have been granted the trust of the chieftain for their deed on the battlefield. Granted with some of the best armour the nomads can create – both sturdy and richly adorned to display status – and state-of-the-art bows, they can make any invasion into a hellish experience. Alika is a master archer, capable of identifying priority targets at a moment's notice and taking advantage of even the smallest weaknesses her hawk-like eyes spot. The only thing that can match her skill with the bow is her fierce loyalty to her blood kin, Sikara, for whom she will face the direst of foes and survive against all odds.
Ratings of Alika
Location
Rating
Campaign
Arena
Offensive:
Defensive:
Clan boss
Without T6 mastery:
With T6 mastery:
Ice Golem's Peak
Dragon's Lair
Spider's Den
Fire Knight's Castle
Minotaur's Labyrinth
Force Keep
Magic Keep
Spirit Keep
Void Keep
Masteries advices
Advices regarding the mastery choice for Alika.
T6: Warmaster or Giant Slayer?
Clan Boss
We recommend using Warmaster, the skill Gap Shot hits 1 time, which will benefit more to Warmaster than Giant Slayer.
Arena
We recommend using Warmaster in the Arena, despite the number of hits any skill from Alika does.
Recommended builds for Alika
For Arena, Campaign, Faction Wars
by ayumilove
ATK%, C.RATE, C.DMG, SPD, ACC
ATK%, C.RATE, C.DMG, SPD, ACC
ATK%, C.RATE, C.DMG, SPD, ACC
ATK%, C.RATE, C.DMG, SPD, ACC
For Arena, Campaign, Faction Wars
by ayumilove
ATK%, C.RATE, C.DMG, SPD, ACC
ATK%, C.RATE, C.DMG, SPD, ACC
ATK%, C.RATE, C.DMG, SPD, ACC
ATK%, C.RATE, C.DMG, SPD, ACC
For Clan Boss, Dungeons
by ayumilove
ATK%, C.RATE, C.DMG, SPD, ACC
ATK%, C.RATE, C.DMG, SPD, ACC
ATK%, C.RATE, C.DMG, SPD, ACC
ATK%, C.RATE, C.DMG, SPD, ACC
Masteries for Alika
For Arena, Campaign, Faction Wars
by ayumilove
For Clan Boss, Dungeons
by ayumilove
---
Updated on 2021-03-28