Altan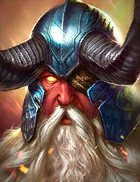 Searing Blow
Attacks 1 enemy. Has a 60% chance of placing a 50% [Decrease ATK] debuff for 2 turns.
Damage based on: [DEF]
Level 2 Damage +5%
Level 3 Damage +5%
Level 4 Buff/Debuff Chance +5'
Level 5 Buff/Debuff Chance +10'
Level 6 Damage +10%

Wall of Flame
Cooldown: 4 turns
Attacks 1 enemy. Places a 60% [Increase DEF] buff on all allies for 2 turns. Places a [Shield] buff on all allies for 2 turns equal to 20% of their MAX HP if this attack kills an enemy.
Damage based on: [DEF]
Level 2 Damage +5%
Level 3 Damage +5%
Level 4 Damage +10%
Level 5 Cooldown -1

Fiery Rebirth
Revives a random ally with 30% HP every time this Champion kills an enemy. Resets the cooldowns on this Champion's Skills if this Champion kills an enemy and all allies are alive.

Aura
Increases Ally DEF in all battles by 33%
Lore
Once a warrior of near legendary prowess among his people, Altan enjoyed a life of adventure and debauchery. Like many other Barbarians, he served as a mercenary, battled rival warriors for glory and bragging rights. Even as he grew older, Altan's prideful nature did not abate. And though his strength began to wane, he still craved the same renown and the elation of battle. When accused of becoming old and weak, he did not just give the offenders a good thrashing but also vowed to face the dread dragon Hellrazor alone. Without a word, he gathered his arms and departed for the Beast's mountain. It is unknown what transpired in the Dragon's lair, for Altan refuses to speak of it. Some say the Arbiter herself intervened and saved him from certain death. Whatever the case may have been, it was clear that Altan did not prevail – yet he did not perish either. When he emerged, the old Barbarian warrior appeared fused with dragonflame that will burn within him forever. He swore fealty to the Arbiter and her fight against the growing Shadow and served her chosen warriors ever since.
Ratings of Altan
Location
Rating
Campaign
Arena
Offensive:
Defensive:
Clan boss
Without T6 mastery:
With T6 mastery:
Ice Golem's Peak
Dragon's Lair
Spider's Den
Fire Knight's Castle
Minotaur's Labyrinth
Force Keep
Magic Keep
Spirit Keep
Void Keep
Masteries advices
Advices regarding the mastery choice for Altan.
T6: Warmaster or Giant Slayer?
Clan Boss
We recommend using Warmaster, the skill Searing Blow hits 1 time, which will benefit more to Warmaster than Giant Slayer.
Arena
We recommend using Warmaster in the Arena, despite the number of hits any skill from Altan does.
Recommended builds for Altan
For Arena, Campaign, Faction Wars
by ayumilove
DEF%, HP%, C.RATE, C.DMG, SPD, ACC
DEF%, HP%, C.RATE, C.DMG, SPD, ACC
DEF%, HP%, C.RATE, C.DMG, SPD, ACC
Gauntlets
(
DEF% / HP% / C.RATE
)
Chestplate
(
DEF% / HP% / ACC
)
DEF%, HP%, C.RATE, C.DMG, ACC
DEF%, HP%, C.RATE, C.DMG, SPD, ACC
Amulet
(
DEF / HP / C.DMG
)
DEF%, HP%, C.RATE, SPD, ACC
DEF%, HP%, C.RATE, C.DMG, SPD
For Clan Boss, Dungeons
by ayumilove
DEF%, HP%, C.RATE, C.DMG, SPD, ACC
DEF%, HP%, C.RATE, C.DMG, SPD, ACC
DEF%, HP%, C.RATE, C.DMG, SPD, ACC
Gauntlets
(
DEF% / HP% / C.RATE
)
Chestplate
(
DEF% / HP% / ACC
)
DEF%, HP%, C.RATE, C.DMG, ACC
DEF%, HP%, C.RATE, C.DMG, SPD, ACC
Amulet
(
DEF / HP / C.DMG
)
DEF%, HP%, C.RATE, SPD, ACC
DEF%, HP%, C.RATE, C.DMG, SPD
For Clan Boss, Dungeons
by ayumilove
DEF%, HP%, C.RATE, C.DMG, SPD, ACC
DEF%, HP%, C.RATE, C.DMG, SPD, ACC
DEF%, HP%, C.RATE, C.DMG, SPD, ACC
Gauntlets
(
DEF% / HP% / C.RATE
)
Chestplate
(
DEF% / HP% / ACC
)
DEF%, HP%, C.RATE, C.DMG, ACC
DEF%, HP%, C.RATE, C.DMG, SPD, ACC
Amulet
(
DEF / HP / C.DMG
)
DEF%, HP%, C.RATE, SPD, ACC
DEF%, HP%, C.RATE, C.DMG, SPD
Masteries for Altan
For Clan Boss
by ayumilove
For Campaign, Dungeons, Faction Wars
by ayumilove
Fusions
Altan is not part of any fusion
---
Updated on 2021-03-28