Angar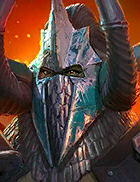 Exacerbate
Attacks 1 enemy 2 times. Places an extra hit if an enemy has a [Provoke] debuff.
Damage based on: [ATK] [HP]
Level 2 Damage +5%
Level 3 Damage +5%
Level 4 Damage +10%

Infuriate
Cooldown: 4 turns
Attacks all enemies. Places a [Provoke] debuff for 2 turns. Places a 30% [Reflect Damage] buff on all allies for 2 turns. Also places a [Counterattack] buff on this Champion for 2 turns.
Damage based on: [ATK] [HP] mh Reflect Damage
Level 2 Damage +5%
Level 3 Damage +5%
Level 4 Damage +10%
Level 5 Cooldown -1

Aura
Increases Ally HP in Faction Crypts by 44%
Lore
A living legend, Angar is not only a warrior of great strength and courage but is also known for his sharp tongue. Perhaps a bit uncommon for an orc, he values victory in the battle of words just as much as victory in the contest of arms. Provoking his foes into mindless rage with barbed insults, Angar can easily make them forget about their tactics. While Angar himself prefers to keep a cool head in battle. He is known to gather grisly trophies such as skulls and bones of the slain. Some say it helps him to always remember the cost of men's folly and blind fury.
Ratings of Angar
Location
Rating
Campaign
Arena
Offensive:
Defensive:
Clan boss
Without T6 mastery:
With T6 mastery:
Ice Golem's Peak
Dragon's Lair
Spider's Den
Fire Knight's Castle
Minotaur's Labyrinth
Force Keep
Magic Keep
Spirit Keep
Void Keep
Masteries advices
Advices regarding the mastery choice for Angar.
T6: Warmaster or Giant Slayer?
Clan Boss
We recommend using Warmaster, the skill Exacerbate hits 2 time, which will benefit more to Warmaster than Giant Slayer.
Arena
We recommend using Warmaster in the Arena, despite the number of hits any skill from Angar does.
Recommended builds for Angar
For Arena, Campaign, Faction Wars
by ayumilove
DEF%, HP%, C.RATE, C.DMG, SPD, ACC
DEF%, HP%, C.RATE, C.DMG, SPD, ACC
DEF%, HP%, C.RATE, C.DMG, SPD, ACC
Gauntlets
(
DEF% / C.RATE
)
DEF%, HP%, C.RATE, C.DMG, ACC
DEF%, HP%, C.RATE, C.DMG, SPD, ACC
DEF%, HP%, C.RATE, SPD, ACC
DEF%, HP%, C.RATE, C.DMG, SPD
For Arena, Campaign, Faction Wars
by ayumilove
DEF%, HP%, C.RATE, C.DMG, SPD, ACC
DEF%, HP%, C.RATE, C.DMG, SPD, ACC
DEF%, HP%, C.RATE, C.DMG, SPD, ACC
Gauntlets
(
DEF% / C.RATE
)
DEF%, HP%, C.RATE, C.DMG, ACC
DEF%, HP%, C.RATE, C.DMG, SPD, ACC
DEF%, HP%, C.RATE, SPD, ACC
DEF%, HP%, C.RATE, C.DMG, SPD
For Arena, Campaign, Faction Wars
by ayumilove
DEF%, HP%, C.RATE, C.DMG, SPD, ACC
DEF%, HP%, C.RATE, C.DMG, SPD, ACC
DEF%, HP%, C.RATE, C.DMG, SPD, ACC
Gauntlets
(
DEF% / C.RATE
)
DEF%, HP%, C.RATE, C.DMG, ACC
DEF%, HP%, C.RATE, C.DMG, SPD, ACC
DEF%, HP%, C.RATE, SPD, ACC
DEF%, HP%, C.RATE, C.DMG, SPD
For Clan Boss, Dungeons
by ayumilove
Masteries for Angar
For Arena, Campaign, Clan Boss, Dungeons, Faction Wars
by ayumilove
Fusions
Angar is not part of any fusion
---
Updated on 2021-03-28