Arbiter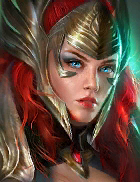 Gaze of Justice
Attacks 1 enemy 2 times. Each hit has a 30% chance of placing a 25% [Weaken] debuff for 2 turns.
Damage based on: [ATK]
Level 2: Damage +10%
Level 3: Buff/Debuff Chance +10%
Level 4: Buff/Debuff Chance +10%

Enforced Humility
Cooldown: 4 turns
Attacks all enemies 1 time. Has a 75% chance of decreasing the duration of all enemy buffs by 1 turn.
Damage based on: [ATK]
Level 2: Damage +10%
Level 3: Buff/Debuff Chance +10%
Level 4: Buff/Debuff Chance +15%

Mentor of Heroes
Cooldown: 4 turns
Fills the Turn Meters of all allies by 30% and places a 50% [Increase ATK] buff on all allies for 2 turns. Heals all allies by 25% of their MAX HP if they have less than 50% HP.
Level 2: Cooldown -1

Destiny's Call
Cooldown: 7 turns
Revives all dead allies to 35% HP, then fills the Turn Meters of all allies by 20%. Grants an Extra Turn to this Champion if an ally was successfully revived.
Level 2: Cooldown -1
Level 3: Cooldown -1

Aura
Increases Ally SPD in the Arena by 30%.
Lore
The Goddess of Light Lumaya has many servants, but none as powerful as the Arbiter. Created from the fabric of Light itself many millennia ago, she was to be the extension of Lumaya's will, her herald, and the protector of Teleria. That is a duty the Arbiter upheld with unflinching determination, for the Shadow is as relentless as it is insidious. Indeed, though she is a mighty warrior in her own right, the Arbiter's own strength alone would not enough to win the day. As civilizations rose and fell, her solemn task remained unchanged – finding heroes worthy to lead this world's greatest Champions into battle. Countless generations of warriors rose to the Arbiter's call, and by their sacrifice Siroth was held at bay. But now Teleria faces its greatest challenge yet. The Arbiter's power wanes and all hope seems lost. In this final moment, a sacrifice was made – the last of Lumaya's divine gift expended to summon forth a single Champion to lead the people of Teleria to victory over the forces of darkness. Though mortal now, the Arbiter yet retains considerable magical ability and skill, as well as the wealth of experience no other warrior can boast. She is still capable of guiding Champions to fulfill their destinies and shall serve Lumaya until her dying breath.
Ratings of Arbiter
Location
Rating
Campaign
Arena
Offensive:
Defensive:
Clan boss
Without T6 mastery:
With T6 mastery:
Ice Golem's Peak
Dragon's Lair
Spider's Den
Fire Knight's Castle
Minotaur's Labyrinth
Force Keep
Magic Keep
Spirit Keep
Void Keep
Masteries advices
Advices regarding the mastery choice for Arbiter.
T6: Warmaster or Giant Slayer?
Clan Boss
We recommend using Warmaster, the skill Gaze of Justice hits 2 time, which will benefit more to Warmaster than Giant Slayer.
Arena
We recommend using Warmaster in the Arena, despite the number of hits any skill from Arbiter does.
Recommended builds for Arbiter
For Arena, Campaign, Faction Wars
by ayumilove
For Arena, Campaign, Faction Wars
by ayumilove
For Arena, Campaign, Faction Wars
by ayumilove
For Clan Boss, Dungeons
by ayumilove
For Clan Boss, Dungeons
by ayumilove
Masteries for Arbiter
For Arena, Campaign, Faction Wars
by ayumilove
For Clan Boss, Dungeons
by ayumilove
Fusions
Arbiter is not part of any fusion
---
Updated on 2021-03-28