Basher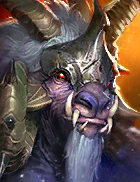 Splintering Bash
Attacks 1 enemy. Has a 75% chance of placing a 25% [Weaken] debuff for 2 turns.
Damage based on: [ATK]
Level 2 Damage +5%
Level 3 Damage +5%
Level 4 Damage +5%
Level 5 Damage +5%

Stinging Blast
Cooldown: 4 turns
Attacks all enemies. Increases the cooldown on one random target skill for 2 turns.
Damage based on: [ATK]
Level 2 Damage +5%
Level 3 Damage +10%
Level 4 Cooldown -1

Cause Fear
Cooldown: 5 turns
Attacks 4 times at random. Has a 75% chance of placing a [Block Buffs] debuff for 2 turns.
Damage based on: [ATK] %@ Block Buffs
Level 2 Damage +10%
Level 3 Buff/Debuff Chance +10%
Level 4 Buff/Debuff Chance +15%
Level 5 Cooldown -1

Aura
Increases Ally HP in all battles by 25%
Lore
Basher has never honored Skinwalkers' traditions and never believed in Ch'arocah legends. The only thing he believes in is brute force. Having been exiled from his tribe in his childhood, he went to the south over the Redspike Mountains where he served first as a scout for the Ordun lords, then as cutthroat and torturer. Basher never speaks of his past and has never uttered his real name that was given to him by his mother. What makes him proud is his current nickname – Basher.
Ratings of Basher
Location
Rating
Campaign
Arena
Offensive:
Defensive:
Clan boss
Without T6 mastery:
With T6 mastery:
Ice Golem's Peak
Dragon's Lair
Spider's Den
Fire Knight's Castle
Minotaur's Labyrinth
Force Keep
Magic Keep
Spirit Keep
Void Keep
Masteries advices
Advices regarding the mastery choice for Basher.
T6: Warmaster or Giant Slayer?
Clan Boss
We recommend using Warmaster, the skill Splintering Bash hits 1 time, which will benefit more to Warmaster than Giant Slayer.
Arena
We recommend using Warmaster in the Arena, despite the number of hits any skill from Basher does.
Recommended builds for Basher
For Arena, Campaign, Faction Wars
by ayumilove
ATK%, C.RATE, C.DMG, SPD, ACC
ATK%, C.RATE, C.DMG, SPD, ACC
ATK%, C.RATE, C.DMG, SPD, ACC
ATK%, C.RATE, C.DMG, SPD, ACC
For Clan Boss, Dungeons
by ayumilove
ATK%, C.RATE, C.DMG, SPD, ACC
ATK%, C.RATE, C.DMG, SPD, ACC
ATK%, C.RATE, C.DMG, SPD, ACC
ATK%, C.RATE, C.DMG, SPD, ACC
Masteries for Basher
For Arena, Campaign, Faction Wars
by ayumilove
For Clan Boss, Dungeons
by ayumilove
---
Updated on 2021-03-28