Basilisk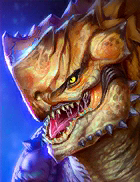 Whirling Axe
Attacks all enemies. Places a 25% [Increase ATK] buff on this Champion for 2 turns if this attack is critical.
Damage based on: [ATK]

Skullclobber
Cooldown: 4 turns
Attacks 1 enemy. Places a [Stun] debuff for 1 turn.
Damage based on: [ATK]
Lore
The Lizardmen, understandably, are prone to worship the great monsters with whom the share their blood. Dragons, wyverns, giant serpents of all sorts. There those among them who seek to emulate these mighty beasts. Such is the Basilisk, a strong and ambitious warrior of the Lizardfolk. It may be a subject of bragging and wild rumour, but he is said to have battled an actual basilisk for the honour of bearing the name. The battle has been hard and bloody. Even as the serpent finally breathed its last, it managed to wound the proud warrior, filling his blood with terrible poison. A lesser mortal would have fallen, but either through sheer grit or the blessings of Lumaya, the lizardman survived both his grievous injuries and the liquid death coursing through his veins. By doing so, he gained the favour of something far greater than himself – favour that allows the Basilisk, whose name was now written in blood, to rise and fight through wounds that would have been mortal.
Ratings of Basilisk
Location
Rating
Campaign
Arena
Offensive:
Defensive:
Clan boss
Without T6 mastery:
With T6 mastery:
Ice Golem's Peak
Dragon's Lair
Spider's Den
Fire Knight's Castle
Minotaur's Labyrinth
Force Keep
Magic Keep
Spirit Keep
Void Keep
Masteries advices
Advices regarding the mastery choice for Basilisk.
T6: Warmaster or Giant Slayer?
Clan Boss
We don't have enough information about Basilisk to determine whether he should have Warmaster or Giant Slayer as T6 mastery.
Arena
We recommend using Warmaster in the Arena, despite the number of hits any skill from Basilisk does.
Recommended builds for Basilisk
For Arena, Campaign, Faction Wars
by ayumilove
ATK%, C.RATE, C.DMG, SPD, ACC
ATK%, C.RATE, C.DMG, SPD, ACC
ATK%, C.RATE, C.DMG, SPD, ACC
ATK%, C.RATE, C.DMG, SPD, ACC
For Arena, Campaign, Faction Wars
by ayumilove
ATK%, C.RATE, C.DMG, SPD, ACC
ATK%, C.RATE, C.DMG, SPD, ACC
ATK%, C.RATE, C.DMG, SPD, ACC
ATK%, C.RATE, C.DMG, SPD, ACC
For Clan Boss, Dungeons
by ayumilove
ATK%, C.RATE, C.DMG, SPD, ACC
ATK%, C.RATE, C.DMG, SPD, ACC
ATK%, C.RATE, C.DMG, SPD, ACC
ATK%, C.RATE, C.DMG, SPD, ACC
Masteries for Basilisk
For Arena, Campaign, Clan Boss, Dungeons, Faction Wars
by ayumilove
Fusions
Basilisk is not part of any fusion
---
Updated on 2021-03-28