Beast Wrestler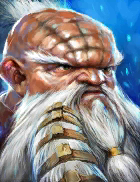 Weighty Cleaver
Attacks 1 enemy 2 times.
Has a 20% chance of placing a [Stun] debuff for 1 turn.
Damage based on: [ATK]

Slaughter Prey
Cooldown: 6 turns
Attacks 1 enemy.
Enemies killed by this skill cannot be revived.
Damage based on: [ATK]

First Blood
Increases damage inflicted by 50% for the first hit on each enemy

Aura
Increases Ally C.RATE in Arena by 16%
Lore
Beast Wrestlers fill a curious niche in the Dwarven society. Theirs is the path of a hunter, and although the underground reaches of their Kingdom are arguably not as rich in game as the lands above there, it is enough. These beasts are often dangerous, and the caverns are home to creatures far worse than predatory giant centipedes. This the Beast Wrestlers are skilled fighters all. They learn the art of dazing their prey in battle and are quite capable of ensuring it does not rise again after being felled once – far too many critters of the deep tend to be hard to kill.
Ratings of Beast Wrestler
Location
Rating
Campaign
Arena
Offensive:
Defensive:
Clan boss
Without T6 mastery:
With T6 mastery:
Ice Golem's Peak
Dragon's Lair
Spider's Den
Fire Knight's Castle
Minotaur's Labyrinth
Force Keep
Magic Keep
Spirit Keep
Void Keep
Masteries advices
Advices regarding the mastery choice for Beast Wrestler.
T6: Warmaster or Giant Slayer?
Clan Boss
We don't have enough information about Beast Wrestler to determine whether he should have Warmaster or Giant Slayer as T6 mastery.
Arena
We recommend using Warmaster in the Arena, despite the number of hits any skill from Beast Wrestler does.
Recommended builds for Beast Wrestler
For Arena, Campaign, Faction Wars
by ayumilove
ATK%, C.RATE, C.DMG, SPD, ACC
ATK%, C.RATE, C.DMG, SPD, ACC
ATK%, C.RATE, C.DMG, SPD, ACC
ATK%, C.RATE, C.DMG, SPD, ACC
For Clan Boss, Dungeons
by ayumilove
ATK%, C.RATE, C.DMG, SPD, ACC
ATK%, C.RATE, C.DMG, SPD, ACC
ATK%, C.RATE, C.DMG, SPD, ACC
ATK%, C.RATE, C.DMG, SPD, ACC
Masteries for Beast Wrestler
For Arena, Campaign, Clan Boss, Dungeons, Faction Wars
by ayumilove
---
Updated on 2021-03-28