Belanor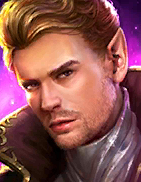 Swordleader
Attacks 1 enemy. Places a 30% [Increase C.RATE] buff on all allies for 1 turn if this attack is critical.
Damage based on: [ATK]
Level 2: Damage +5%
Level 3: Damage +5%
Level 4: Damage +10%
Level 5: Damage +10%
Insurmountable
Cooldown: 3 turns
Places a 60% [Decrease DEF] debuff and a 25% [Weaken] debuff for 2 turns on 1 enemy, then attacks them. Places a [Perfect Veil] buff on this Champion for 2 turns after attacking.
Damage based on: [ATK]
Level 2: Damage +5%
Level 3: Damage +10%
Level 4: Damage +10%

Overkill
Cooldown: 4 turns
Attacks 1 enemy. Will attack the enemy with the lowest HP with any surplus damage if this attack kills an enemy. The surplus damage cannot be critical.
Damage based on: [ATK]
Level 2: Damage +10%
Level 3: Cooldown -1

Tactical Partner
Cooldown: 4 turns
Activates this Champion's Swordleader skill. Also activates Zavia's Poison Rain Skill when Zavia is on the same team.

Aura
Increases Ally C.RATE in all Battles by 24%.
Lore
Hatred is a powerful thing, one that is, perhaps, as hard as death to overcome. Yet even here love finds a way, the story of Belanor and Zavia. Cruel fate had them fight on different sides of one of the many conflicts between the High Elves of Aravia and the exiles known as Dark Elves. Still, even though the bloody fog of war, through hate, and through fury, these two souls were united.
As stragglers of a battle between the warring Elven factions, they were initially forced to survive an unwelcoming orc-infested desert together. The sheer adversity and the dangers they faced allowed them to see a person behind the mask of an enemy. The passion that was sparked then survived far beyond a temporary alliance of convenience. And, in the end, both Belanor and Zavia chose to escape together rather than continue the feud. Now seen as traitors and deserters by their former allies, the two of them had no choice but to live on the run.
They faced persecution, poverty, and mortal danger together. Finally, they were captured and sentenced to death for their crimes. Yet when the first light of dawn broke and the jailors arrived to take the fugitives to the scaffold, they were taken aback. The cell was locked and secured, not a single hint at how the captives escaped. The only thing they found were two feathers on the stone floor, one black as night, the other - white as Lumaya's light. To this day no one knows what transpired on that night, though some, as they often do, attribute the miraculous escape to the Arbiter.
Ratings of Belanor
Location
Rating
Campaign
Arena
Offensive:
Defensive:
Clan boss
Without T6 mastery:
With T6 mastery:
Ice Golem's Peak
Dragon's Lair
Spider's Den
Fire Knight's Castle
Minotaur's Labyrinth
Force Keep
Magic Keep
Spirit Keep
Void Keep
Masteries advices
Advices regarding the mastery choice for Belanor.
T6: Warmaster or Giant Slayer?
Clan Boss
We recommend using Warmaster, the skill Swordleader hits 1 time, which will benefit more to Warmaster than Giant Slayer.
Arena
We recommend using Warmaster in the Arena, despite the number of hits any skill from Belanor does.
Recommended builds for Belanor
For Arena, Campaign, Faction Wars
by ayumilove
ATK%, C.RATE, C.DMG, SPD, ACC
ATK%, C.RATE, C.DMG, SPD, ACC
ATK%, C.RATE, C.DMG, SPD, ACC
ATK%, C.RATE, C.DMG, SPD, ACC
For Clan Boss, Dungeons
by ayumilove
ATK%, C.RATE, C.DMG, SPD, ACC
ATK%, C.RATE, C.DMG, SPD, ACC
ATK%, C.RATE, C.DMG, SPD, ACC
ATK%, C.RATE, C.DMG, SPD, ACC
Masteries for Belanor
For everywhere
by ayumilove
Fusions
Belanor is not part of any fusion
---
Updated on 2021-03-28