Bombardier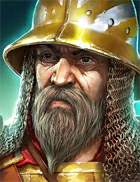 Septic Shot
Cooldown: 4 turns
Attacks 1 enemy 3 times. Each hit has a 50% chance of placing a 2.5% [Poison] debuff for 2 turns.
Damage based on: [ATK]

Level 2 Damage +5%
Level 3 Buff/Debuff Chance +5%
Level 4 Damage +5%
Level 5 Buff/Debuff Chance +10%
Level 6 Buff/Debuff Chance +10%
Level 7 Cooldown -1

Bombard
Attacks 1 enemy. Has a 5% chance of increasing the duration of all debuffs by 1 turn.

Damage based on: [ATK]
Level 2 Damage +5%
Level 3 Buff/Debuff Chance +5%
Level 4 Damage +5%
Level 5 Buff/Debuff Chance +5%
Level 6 Damage +10%

Skirmish Tactics
Cooldown: 4 turns
Attacks 1 enemy. Places a 30% [Increase SPD] buff on this Champion for 2 turns if this attack is critical.
Damage based on: [ATK]
Level 2 Damage +5%
Level 3 Damage +5%
Level 4 Damage +10%

Aura
Increases Ally C.RATE in all Battles by 12%.
Lore
The armies of Kaerok are rightfully counted among the most impressively organized military forces in the whole of Teleria. Indeed, though still feudal for the most part, there is a standing core of professional soldiers that grows in prominence with every passing year. Though they cannot always afford the best armour and arms to match the Banner Lords themselves, there are other ways for these warriors to be a force to be reckoned with. Crossbowmen are a particularly terrifying opponent for anyone to face as they combine their powerful ranged weapons with steadfast discipline. Yet even among them, the elite exists. These are Bombardiers, the select units in service of the King's own army and that of the most powerful Dukes. Bombardiers often deploy in small units, harassing enemy lines and withdrawing before they can be caught by a counterattack. They are provided with specialized ammunition, both poisoned and enchanted, to better handle any kind of foe they might encounter.
Ratings of Bombardier
Location
Rating
Campaign
Arena
Offensive:
Defensive:
Clan boss
Without T6 mastery:
With T6 mastery:
Ice Golem's Peak
Dragon's Lair
Spider's Den
Fire Knight's Castle
Minotaur's Labyrinth
Force Keep
Magic Keep
Spirit Keep
Void Keep
Synergy
Bombardier's abilities can be paired with the following champions for better results.
Poison and Counterattack
Mixing a champion having A1 applying a Poison debuff, and a champion able to place a counterattack buff on him, is a very good situational synergy that can be impressive during Clan Boss battles.
Masteries advices
Advices regarding the mastery choice for Bombardier.
T6: Warmaster or Giant Slayer?
Clan Boss
We don't have enough information about Bombardier to determine whether he should have Warmaster or Giant Slayer as T6 mastery.
Arena
We recommend using Warmaster in the Arena, despite the number of hits any skill from Bombardier does.
Recommended builds for Bombardier
For Arena, Campaign, Faction Wars
by ayumilove
ATK%, C.RATE, C.DMG, SPD, ACC
ATK%, C.RATE, C.DMG, SPD, ACC
ATK%, C.RATE, C.DMG, SPD, ACC
ATK%, C.RATE, C.DMG, SPD, ACC
For Clan Boss, Dungeons
by ayumilove
ATK%, C.RATE, C.DMG, SPD, ACC
ATK%, C.RATE, C.DMG, SPD, ACC
ATK%, C.RATE, C.DMG, SPD, ACC
ATK%, C.RATE, C.DMG, SPD, ACC
---
Updated on 2021-03-28