Bully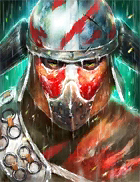 Bullying
Attacks 1 enemy.

Damage based on: [DEF]
Level 2 Damage +5%
Level 3 Damage +5%
Level 4 Damage +5%
Level 5 Damage +5%
Level 6 Damage +5%
Level 7 Damage +5%
Lore
Life is harsh in the deserts of the Badlands, and not all Barbarian tribes value honour as much as they do survival. Many turn to simple brigandry and raiding, attacking travellers and other tribes without warning. These raiders often paint their armour and bodies with dyes resembling blood and gore in order to intimidate their foes. And though many are hardly expert fighters, their savagery makes them dangerous.
Ratings of Bully
Location
Rating
Campaign
Arena
Offensive:
Defensive:
Clan boss
Without T6 mastery:
With T6 mastery:
Ice Golem's Peak
Dragon's Lair
Spider's Den
Fire Knight's Castle
Minotaur's Labyrinth
Force Keep
Magic Keep
Spirit Keep
Void Keep
Masteries advices
Advices regarding the mastery choice for Bully.
T6: Warmaster or Giant Slayer?
Clan Boss
We don't have enough information about Bully to determine whether he should have Warmaster or Giant Slayer as T6 mastery.
Arena
We recommend using Warmaster in the Arena, despite the number of hits any skill from Bully does.
Recommended builds for Bully
For Arena, Campaign, Faction Wars
by ayumilove
For Clan Boss, Dungeons
by ayumilove
Fusions
Bully is not part of any fusion
---
Updated on 2021-03-28