Bulwark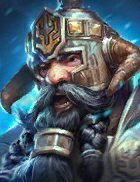 Hefty Flail
Attacks 1 enemy 2 times.
Each hit has a 15% chance of placing a 15% [Weaken] debuff for 2 turns.
Damage based on: [DEF]

Meteoric Ignition
Cooldown: 4 turns
Attacks 1 enemy.
Has a 75% chance of placing a [HP Burn] debuff for 2 turns.
Damage based on: [DEF]

Punishing Defenses
When attacked, has a 30% chance of extending the duration of all debuffs on the attacker by 1 turn

Aura
Increases Ally DEF in all battles by 17%
Lore
Dwarven heavy infantry is notorious for holding the line against impossible odds, standing firm like a cliff before the onslaught of waves. Their armour can take the mightiest of blows without as much as denting, their shields form an impenetrable wall, and as their foes retreat exhausted, the line marches forth in perfect formation to the sounds of drums and horns. When their flails land, they cripple and weaken the foe. Some are even fitted with braziers of alchemic fire, allowing a precise blow to set its target ablaze. The main weapon of the Bulwark, however, is his discipline and defensive tactics that not only repel the enemy but also keep them at a disadvantage for as long as possible.
Ratings of Bulwark
Location
Rating
Campaign
Arena
Offensive:
Defensive:
Clan boss
Without T6 mastery:
With T6 mastery:
Ice Golem's Peak
Dragon's Lair
Spider's Den
Fire Knight's Castle
Minotaur's Labyrinth
Force Keep
Magic Keep
Spirit Keep
Void Keep
Masteries advices
Advices regarding the mastery choice for Bulwark.
T6: Warmaster or Giant Slayer?
Clan Boss
We don't have enough information about Bulwark to determine whether he should have Warmaster or Giant Slayer as T6 mastery.
Arena
We recommend using Warmaster in the Arena, despite the number of hits any skill from Bulwark does.
Recommended builds for Bulwark
For Arena, Campaign, Faction Wars
by ayumilove
DEF%, C.RATE, C.DMG, SPD, ACC
DEF%, C.RATE, C.DMG, SPD, ACC
DEF%, C.RATE, C.DMG, SPD, ACC
Gauntlets
(
C.RATE / C.DMG
)
DEF%, C.RATE, C.DMG, SPD, ACC
For Clan Boss, Dungeons
by ayumilove
DEF%, C.RATE, C.DMG, SPD, ACC
DEF%, C.RATE, C.DMG, SPD, ACC
DEF%, C.RATE, C.DMG, SPD, ACC
Gauntlets
(
C.RATE / C.DMG
)
DEF%, C.RATE, C.DMG, SPD, ACC
For Clan Boss, Dungeons
by ayumilove
DEF%, C.RATE, C.DMG, SPD, ACC
DEF%, C.RATE, C.DMG, SPD, ACC
DEF%, C.RATE, C.DMG, SPD, ACC
Gauntlets
(
C.RATE / C.DMG
)
DEF%, C.RATE, C.DMG, SPD, ACC
For Clan Boss, Dungeons
by ayumilove
DEF%, C.RATE, C.DMG, SPD, ACC
DEF%, C.RATE, C.DMG, SPD, ACC
DEF%, C.RATE, C.DMG, SPD, ACC
Gauntlets
(
C.RATE / C.DMG
)
DEF%, C.RATE, C.DMG, SPD, ACC
For Clan Boss, Dungeons
by ayumilove
DEF%, C.RATE, C.DMG, SPD, ACC
DEF%, C.RATE, C.DMG, SPD, ACC
DEF%, C.RATE, C.DMG, SPD, ACC
Gauntlets
(
C.RATE / C.DMG
)
DEF%, C.RATE, C.DMG, SPD, ACC
Masteries for Bulwark
For Arena, Campaign, Clan Boss, Dungeons, Faction Wars
by ayumilove
---
Updated on 2021-03-28