Bushi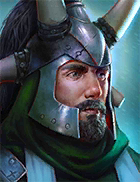 Rising Storm
Attacks 1 enemy. Damage inflicted increases each time this skill is used. Stacks up to 4 times.
Damage based on: [ATK]
Level 2: Damage +5%
Level 3: Damage +5%
Level 4: Damage +5%
Level 5: Damage +5%

Deadly Edge
Cooldown: 4 turns
Attacks 1 enemy. This attack is always critical. Places a 30% [Increase C.RATE] buff and a 15% [Increase SPD] buff on this Champion for 3 turns.
Damage based on: [ATK]
Level 2: Damage +5%
Level 3: Damage +10%
Level 4: Damage +10%
Level 5: Cooldown -1

Unbending
Cooldown: 5 turns
Revives this Champion with 30% HP. Places an [Unkillable] buff on this Champion for 1 turn.
Level 2: Cooldown -1
Level 3: Cooldown -1

Aura
Increases Ally SPD in the Arena by 20%.
Lore
Bushi joined the ranks of The Sacred Order in early childhood, when Rangers of The Sacred Order found him in a settlement put to the torch by Orcs. Brought back to join their number, he was enrolled in the Order's secret academy. It was there he learned the way of the Sacred Warrior, how to weild his axe, and how to claim the heads of who deprived him of his people and his birthright those many years ago…
Ratings of Bushi
Location
Rating
Campaign
Arena
Offensive:
Defensive:
Clan boss
Without T6 mastery:
With T6 mastery:
Ice Golem's Peak
Dragon's Lair
Spider's Den
Fire Knight's Castle
Minotaur's Labyrinth
Force Keep
Magic Keep
Spirit Keep
Void Keep
Masteries advices
Advices regarding the mastery choice for Bushi.
T6: Warmaster or Giant Slayer?
Clan Boss
We recommend using Warmaster, the skill Rising Storm hits 1 time, which will benefit more to Warmaster than Giant Slayer.
Arena
We recommend using Warmaster in the Arena, despite the number of hits any skill from Bushi does.
Recommended builds for Bushi
For Arena, Campaign, Faction Wars
by ayumilove
For Arena, Campaign, Faction Wars
by ayumilove
For Clan Boss, Dungeons
by ayumilove
Masteries for Bushi
For Arena, Campaign, Dungeons, Faction Wars
by ayumilove
For Clan Boss
by ayumilove
For Clan Boss
by ayumilove
---
Updated on 2021-03-28