Candraphon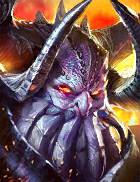 Punish Hubris
Attacks 1 enemy. Places an extra hit if the target is under any buff.
Damage based on: [ATK]
Level 2: Damage +5%
Level 3: Damage +5%
Level 4: Damage +10%
Level 5: Damage +10%

Butcher's Glee
Cooldown: 4 turns
Attacks all enemies. Grants an Extra Turn and resets the cooldown of On the Hunt Skill if this attack kills an enemy.
Damage based on: [ATK]
Level 2: Damage +5%
Level 3: Damage +5%
Level 4: Damage +5%
Level 5: Damage +5%
Level 6: Cooldown -1


From the Shadows
(Passive Effect) Damage increases by 40% while attacking under a [Veil] or [Perfect Veil] buff. Receives 40% less damage while under a [Veil] or [Perfect Veil] buff. Also boosts this Champion's Turn Meter by 15% each time this Champion receives damage under a [Veil] or [Perfect Veil] buff. Does not work if this Champion is the only alive ally on the team.
(Active Effect) Places a [Perfect Veil] buff on this Champion for 1 turn each time an enemy's Turn Meter is filled. This buff cannot be removed.

Aura
Increases Ally ATK in Arena by 33%
Lore
Hushed rumours speak of a beast on the prowl, a terrible monster born of the Shadow. It slithers in dark corners, where Lumaya's light does not reach, never to be seen until it is too late. And when it unleashes its bloodthirst, there is no escape. Razorsharp claws rend steel and flesh alike, and the beast strikes with such blinding speed that its unfortunate victims never have a chance to realize from whence their death arrived. Candraphon – though few know the name – is that abomination, and much of what is whispered about him is neither myth nor exaggeration, but a nightmarish truth. He is an ancient Demonspawn, whose origins lie far beyond the realm of Teleria. Whatever drives him is hard to comprehend for a mortal mind, but there is malicious intelligence behind the seemingly barbaric acts of butchery. The truth is simple but no less disturbing for it. Candraphon is a predator. A stalker that treats the mortal realms as his hunting grounds, and the lesser creatures that dwell therein as quarry to slay whenever he wishes. To attract the gaze of this demon's burning eyes is to invite a swift and brutal demise, for Candraphon revels in victory over worthy prey above all else.
Ratings of Candraphon
Location
Rating
Campaign
Arena
Offensive:
Defensive:
Clan boss
Without T6 mastery:
With T6 mastery:
Ice Golem's Peak
Dragon's Lair
Spider's Den
Fire Knight's Castle
Minotaur's Labyrinth
Force Keep
Magic Keep
Spirit Keep
Void Keep
Masteries advices
Advices regarding the mastery choice for Candraphon.
T6: Warmaster or Giant Slayer?
Clan Boss
We recommend using Warmaster, the skill Punish Hubris hits 0 time, which will benefit more to Warmaster than Giant Slayer.
Arena
We recommend using Warmaster in the Arena, despite the number of hits any skill from Candraphon does.
Recommended builds for Candraphon
For Arena, Campaign, Faction Wars
by ayumilove
Gauntlets
(
C.RATE / C.DMG
)
For Arena, Campaign, Faction Wars
by ayumilove
Gauntlets
(
C.RATE / C.DMG
)
For Arena, Campaign, Faction Wars
by ayumilove
offense, offense, offense
Gauntlets
(
C.RATE / C.DMG
)
For Clan Boss, Dungeons
by ayumilove
Gauntlets
(
C.RATE / C.DMG
)
For Clan Boss, Dungeons
by ayumilove
Gauntlets
(
C.RATE / C.DMG
)
Masteries for Candraphon
For Arena, Campaign, Faction Wars
by ayumilove
For Arena, Clan Boss, Dungeons
by ayumilove
For Clan Boss, Dungeons
by ayumilove
For Clan Boss
by ayumilove
Fusions
Candraphon is not part of any fusion
Great videos on Candraphon
---
Updated on 2021-03-28