Chemist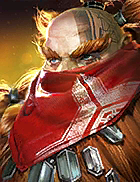 Trick Saws
Attacks 1 enemy 2 times.
Damage based on: [ATK]

Alchemic Stunner
Cooldown: 4 turns
Attacks 1 enemy. Has a 15% chance of placing a [Stun] debuff for 1 turn.
This chance increases to 30% if the target's HP is below 50%
Damage based on: [ATK]
Lore
Though Dwarves are legendary smiths first and foremost, their artisans are learned in many disciplines beyond the forging of metal. Alchemists, in particular, are wide-spread and valued. After all, someone has to work with the wealth of arcane materials that are available beneath the Mountains of Despair. These fighters are just as tough as their more traditional warrior brethren, however! They might lack heavy armour and oversized axes, but they can use alchemical concoctions to gain an edge in battle instead!
Ratings of Chemist
Location
Rating
Campaign
Arena
Offensive:
Defensive:
Clan boss
Without T6 mastery:
With T6 mastery:
Ice Golem's Peak
Dragon's Lair
Spider's Den
Fire Knight's Castle
Minotaur's Labyrinth
Force Keep
Magic Keep
Spirit Keep
Void Keep
Masteries advices
Advices regarding the mastery choice for Chemist.
T6: Warmaster or Giant Slayer?
Clan Boss
We don't have enough information about Chemist to determine whether he should have Warmaster or Giant Slayer as T6 mastery.
Arena
We recommend using Warmaster in the Arena, despite the number of hits any skill from Chemist does.
Recommended builds for Chemist
For Arena, Campaign, Faction Wars
by ayumilove
ATK%, C.RATE, C.DMG, SPD, ACC
ATK%, C.RATE, C.DMG, SPD, ACC
ATK%, C.RATE, C.DMG, SPD, ACC
ATK%, C.RATE, C.DMG, SPD, ACC
For Clan Boss, Dungeons
by ayumilove
ATK%, C.RATE, C.DMG, SPD, ACC
ATK%, C.RATE, C.DMG, SPD, ACC
ATK%, C.RATE, C.DMG, SPD, ACC
ATK%, C.RATE, C.DMG, SPD, ACC
Masteries for Chemist
For Arena, Campaign, Clan Boss, Dungeons, Faction Wars
by ayumilove
Fusions
Chemist is not part of any fusion
---
Updated on 2021-03-28