Chevalier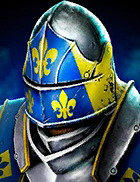 Hack Through
Attacks 1 enemy 2 times. Has a 20% chance of repeating the attack. Will ignore [Block Damage] and [Shield] buffs.
Damage based on: [DEF]
Level 2 Damage +5%
Level 3 Damage +5%
Level 4 Damage +5%
Level 5 Damage +10%

Stern Rebuke
Cooldown: 4 turns
Attacks 1 enemy. Has a 50% chance of placing a [Stun] debuff for 1 turn.
Damage based on: [DEF]
Level 2 Buff/Debuff Chance +5%
Level 3 Buff/Debuff Chance +10%
Level 4 Buff/Debuff Chance +10%
Level 5 Cooldown -1


Aura
Increases Ally DEF in Faction Crypts by 19%
Lore
Chevaliers hail from the Northern coast of Kaerok, the name itself derived from a local title given to Knights. Mostly minor nobles, these warriors form the elite corps of the King's army. Encased in heavy armour, armed with a shield and a variety of weapons, they can batter their way through all but the toughest opposition. The Chevalier's allies can be certain, that on his honour he shall protect them and strike back against those who defy the will of the Arbiter. Such is his dedication, that not even enchanted armour can save the enemy from his axe. And his knowledge of tactics allows allies to follow him into the fray in a defensive formation, less exposed to enemy strikes.
Ratings of Chevalier
Location
Rating
Campaign
Arena
Offensive:
Defensive:
Clan boss
Without T6 mastery:
With T6 mastery:
Ice Golem's Peak
Dragon's Lair
Spider's Den
Fire Knight's Castle
Minotaur's Labyrinth
Force Keep
Magic Keep
Spirit Keep
Void Keep
Masteries advices
Advices regarding the mastery choice for Chevalier.
T6: Warmaster or Giant Slayer?
Clan Boss
We recommend using Warmaster, the skill Hack Through hits 2 time, which will benefit more to Warmaster than Giant Slayer.
Arena
We recommend using Warmaster in the Arena, despite the number of hits any skill from Chevalier does.
Recommended builds for Chevalier
For Arena, Campaign, Faction Wars
by ayumilove
DEF%, C.RATE, C.DMG, SPD, ACC
DEF%, C.RATE, C.DMG, SPD, ACC
DEF%, C.RATE, C.DMG, SPD, ACC
DEF%, C.RATE, C.DMG, SPD, ACC
For Arena, Campaign, Faction Wars
by ayumilove
DEF%, C.RATE, C.DMG, SPD, ACC
DEF%, C.RATE, C.DMG, SPD, ACC
DEF%, C.RATE, C.DMG, SPD, ACC
DEF%, C.RATE, C.DMG, SPD, ACC
For Clan Boss, Dungeons
by ayumilove
DEF%, C.RATE, C.DMG, SPD, ACC
DEF%, C.RATE, C.DMG, SPD, ACC
DEF%, C.RATE, C.DMG, SPD, ACC
DEF%, C.RATE, C.DMG, SPD, ACC
Masteries for Chevalier
For everywhere
by ayumilove
Great videos on Chevalier
---
Updated on 2021-03-28