Coffin Smasher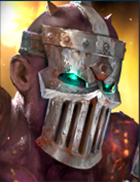 Mallet Crescendo
Attacks 1 enemy 3 times. Each hit has a 15% chance of placing a 50% [Decrease ATK] debuff for 2 turns.
Damage based on: [HP]
Level 2: Damage +5%
Level 3: Buff/Debuff Chance +5%
Level 4: Damage +5%
Level 5: Buff/Debuff Chance +5%
Level 6: Damage +5%
Level 7: Buff/Debuff Chance +5%

Tombfire
Cooldown: 4 turns
Attacks 1 enemy. Has a 50% chance of placing a [HP Burn] debuff for 2 turns.
Damage based on: [HP]
Level 2: Damage +5%
Level 3: Buff/Debuff Chance +5%
Level 4: Damage +5%
Level 5: Buff/Debuff Chance +5%
Level 6: Damage +5%
Level 7: Buff/Debuff Chance +5%
Level 8: Damage +10%
Level 9: Buff/Debuff Chance +10%

Gloom Mist
Decreases the damage enemies inflict with AoE attacks by 5%.
Lore
Disturbing ancient crypts is a dangerous quest indeed, and doubly so when the would-be tomb raiders approach their craft without due subtlety. Most perish, be it by the traps set in untold multitudes across the tombs, by ancient hexes, by the hand of their rivals, or by other equally gruesome means. Perhaps death is a mercy, if one were to consider the alternatives… Coffin Smashers are thralls to the Knights Revenant, tasked with the most dangerous of tasks and lacking individuality beyond the bare rudiments required for them to be slightly more useful than an Undead puppet. They are set upon various crypts and tasked with ploughing through the defenses so that their Masters need not risk the lives that actually matter. As a result, many of the Smashers perish, countless others come under effect of powerful curses and are malformed into hideous monstrosities and shambling aberrant abominations. But that too often becomes useful to the Cult, and Knights Revenant do not shy away from employing these twisted slaves in their wars.
Ratings of Coffin Smasher
Location
Rating
Campaign
Arena
Offensive:
Defensive:
Clan boss
Without T6 mastery:
With T6 mastery:
Ice Golem's Peak
Dragon's Lair
Spider's Den
Fire Knight's Castle
Minotaur's Labyrinth
Force Keep
Magic Keep
Spirit Keep
Void Keep
Masteries advices
Advices regarding the mastery choice for Coffin Smasher.
T6: Warmaster or Giant Slayer?
Clan Boss
We don't have enough information about Coffin Smasher to determine whether he should have Warmaster or Giant Slayer as T6 mastery.
Arena
We recommend using Warmaster in the Arena, despite the number of hits any skill from Coffin Smasher does.
Recommended builds for Coffin Smasher
For Arena, Campaign, Faction Wars
by ayumilove
immortal, immortal, speed
For Arena, Campaign, Faction Wars
by ayumilove
For Clan Boss, Dungeons
by ayumilove
Masteries for Coffin Smasher
For Arena, Campaign, Clan Boss, Dungeons, Faction Wars
by ayumilove
Great videos on Coffin Smasher
---
Updated on 2021-03-28