Corpse Collector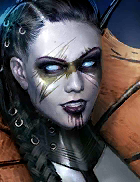 Skills of Corpse Collector

Insidious Parasite
Attacks 1 enemy. Has a 40% chance of placing a [Leech] debuff for 2 turns. Damage based on ATK
Level 2 Damage +5%.
Level 3 Damage +5%.
Level 4 Damage +5%.
Level 5 Chance +10%.

Hailfire
Cooldown: 4 turns
Attacks all enemies. Has a 75% chance of placing a 100% [Heal Reduction] debuff and a 50% [Decrease ACC] debuff on all enemies for 2 turns. Damage based on ATK
Level 2 Damage +5%.
Level 3 Damage +5%.
Level 4 Chance +5%.
Level 5 Chance +10%.
Level 6 Chance +10%.
Level 7 Cooldown -1.

Aura
Increases Ally ACC in Arena by 40
Lore
There are some who romanticize vampires, painting them in legend and song as beautiful, seductive beings. And, indeed, some may be fortunate enough to retain an eerie beauty through dark rituals and magic. But that is merely a fragile facade that will crumble sooner or later to reveal these damned souls for the beasts that they truly are. Some are not even fortunate enough to prolong this illusion. The Corpse Collector is a fairly crude monicker given by peasantry of Kaerok that she had terrorized for years. Closer to a ghoul, perhaps, than a true vampire, she nonetheless still maintains a grasp of her intelligence. That, of course, makes the undead monster much more dangerous. She feeds on the pain and blood of her victims, all too eager to siphon their lifeblood and invigorate herself. Capable of summoning unclean flames to blind and cripple her foes, the Corpse Collector is nonetheless a cautious foe. When threatened, she will strike out with poisonous claws and vanish into the shadows, whether to escape or pounce the next unfortunate fool from the back a moment later.
Ratings of Corpse Collector
Location
Rating
Campaign
Arena
Offensive:
Defensive:
Clan boss
Without T6 mastery:
With T6 mastery:
Ice Golem's Peak
Dragon's Lair
Spider's Den
Fire Knight's Castle
Minotaur's Labyrinth
Force Keep
Magic Keep
Spirit Keep
Void Keep
Masteries advices
Advices regarding the mastery choice for Corpse Collector.
T6: Warmaster or Giant Slayer?
Clan Boss
We recommend using Warmaster, the skill Insidious Parasite hits 0 time, which will benefit more to Warmaster than Giant Slayer.
Arena
We recommend using Warmaster in the Arena, despite the number of hits any skill from Corpse Collector does.
Recommended builds for Corpse Collector
For Arena, Campaign, Faction Wars
by ayumilove
ATK%, C.RATE, C.DMG, SPD, ACC
ATK%, C.RATE, C.DMG, SPD, ACC
ATK%, C.RATE, C.DMG, SPD, ACC
ATK%, C.RATE, C.DMG, SPD, ACC
For Clan Boss, Dungeons
by ayumilove
ATK%, C.RATE, C.DMG, SPD, ACC
ATK%, C.RATE, C.DMG, SPD, ACC
ATK%, C.RATE, C.DMG, SPD, ACC
ATK%, C.RATE, C.DMG, SPD, ACC
Masteries for Corpse Collector
For Arena, Campaign, Clan Boss, Dungeons, Faction Wars
by ayumilove
---
Updated on 2021-03-28