Crimson Slayer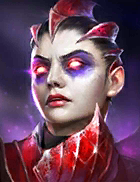 Bring Silence
Attacks 3 times at random. Each hit has a 30% chance of placing a [Sleep] debuff for 1 turn.
Damage based on: [ATK]

Flowing Sword
Cooldown: 4 turns
Attacks 1 enemy. Has a 70% chance of decreasing the target's Turn Meter by 50%. Fills this Champion's Turn Meter equal to the amount the target loses.
Damage based on: [ATK]

Copious Bleed
Cooldown: 6 turns
Attacks all enemies. Has an 80% chance of placing a 50% [Heal Reduction] debuff for 1 turn.
Damage based on: [ATK]

Aura
Increases Ally ATK in Faction Crypts by 17%
Lore
Stained red with blood, the Crimson Slayer roams the battlefield. Once a proud warrior, she has succumbed to the darkness within and without. Now bereft of her old self and driven forth by the will of her dark Master, she fights with the desperate abandon of a berserker. The dark magic that courses through the veins allows the Crimson Slayer to sap away her foe's will to fight with every strike – sometimes to the point of sending hapless Champions into deep and apathetic slumber – while invigorating herself to greater acts of carnage. Even her sword has been enhanced with terrible hexes that allow the blade to cause torn wounds that even the best of healers will struggle to heal.
Ratings of Crimson Slayer
Location
Rating
Campaign
Arena
Offensive:
Defensive:
Clan boss
Without T6 mastery:
With T6 mastery:
Ice Golem's Peak
Dragon's Lair
Spider's Den
Fire Knight's Castle
Minotaur's Labyrinth
Force Keep
Magic Keep
Spirit Keep
Void Keep
Masteries advices
Advices regarding the mastery choice for Crimson Slayer.
T6: Warmaster or Giant Slayer?
Clan Boss
We don't have enough information about Crimson Slayer to determine whether he should have Warmaster or Giant Slayer as T6 mastery.
Arena
We recommend using Warmaster in the Arena, despite the number of hits any skill from Crimson Slayer does.
Recommended builds for Crimson Slayer
For Arena, Campaign, Dungeons, Faction Wars
by ayumilove
ATK%, C.RATE, C.DMG, SPD, ACC
ATK%, C.RATE, C.DMG, SPD, ACC
ATK%, C.RATE, C.DMG, SPD, ACC
ATK%, C.RATE, C.DMG, SPD, ACC
For Arena, Campaign, Dungeons, Faction Wars
by ayumilove
ATK%, C.RATE, C.DMG, SPD, ACC
ATK%, C.RATE, C.DMG, SPD, ACC
ATK%, C.RATE, C.DMG, SPD, ACC
ATK%, C.RATE, C.DMG, SPD, ACC
For Arena, Campaign, Dungeons, Faction Wars
by ayumilove
ATK%, C.RATE, C.DMG, SPD, ACC
ATK%, C.RATE, C.DMG, SPD, ACC
ATK%, C.RATE, C.DMG, SPD, ACC
ATK%, C.RATE, C.DMG, SPD, ACC
For Arena, Campaign, Dungeons, Faction Wars
by ayumilove
ATK%, C.RATE, C.DMG, SPD, ACC
ATK%, C.RATE, C.DMG, SPD, ACC
ATK%, C.RATE, C.DMG, SPD, ACC
ATK%, C.RATE, C.DMG, SPD, ACC
For Clan Boss
by ayumilove
ATK%, C.RATE, C.DMG, SPD, ACC
ATK%, C.RATE, C.DMG, SPD, ACC
ATK%, C.RATE, C.DMG, SPD, ACC
ATK%, C.RATE, C.DMG, SPD, ACC
Masteries for Crimson Slayer
For Arena, Campaign, Clan Boss, Dungeons, Faction Wars
by ayumilove
---
Updated on 2021-03-28