Cruetraxa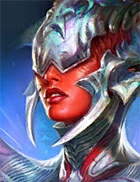 Dire Perforation
Attacks 1 enemy 4 times. Ignores 50% of enemy DEF.
Damage based on: [ATK]
Level 2: Damage +5%
Level 3: Damage +5%
Level 4: Damage +5%
Level 5: Damage +10%

Curse of Writhing
Cooldown: 4 turns
Attacks 1 enemy. Has a 75% chance of placing a 25% [Weaken] debuff for 2 turns. Has a 75% chance of removing 2 random buffs from the target. Grants an Extra Turn.
Damage based on: [ATK]
Level 2: Damage +5%
Level 3: Buff/Debuff Chance +5%
Level 4: Buff/Debuff Chance +10%
Level 5: Buff/Debuff Chance +10%

Rite of Rebirth
Places a [Revive on Death] buff on this Champion for 2 turns at the beginning of each round. Places [Revive on Death] buff on this Champion for 1 turn when this Champion kills an enemy. (Does not occur with Spiderlings).

Aura
Increases Ally ATK in all Battles by 24%
Lore
Favoured by Siroth, despised and envied by her peers, Cruetraxa rightfully holds a position of great privilege in the Demonic hierarchy. She is cunning, vengeful, and, above all, skilled in the art of war. Mortal scholars believe she rules over a vast hellish plane of brimstone and fire, a legion of damned souls and lesser demons at her beck and call. Like all of her kind, Cruetraxa is a creature of vice, her arrogance and lust for power permeate everything that she is. In battle, she appears clad in a terrifying armour birthed of dark magic – flesh fused with platinum and enchanted to be harder than dragonscale. Some demonologists even theorize that the armour, in truth, is fused with Cruetraxa's body. Whatever the truth of the matter may be, delivering the killing blow to this vile warrior has proven to be a very difficult task. Even when brought low, she rises once again, her wounds healed. Worse yet, the armour appears to be siphoning the life of Cruetraxa's victims and uses it to keep her physical form from being banished. Her spear appears to have been forged in the same ritual. Its edges can effortlessly cut even through the toughest armour. And with her mastery of the dark arts, Cruetraxa can weaken her foes and dispell the magic protecting her foes.
Ratings of Cruetraxa
Location
Rating
Campaign
Arena
Offensive:
Defensive:
Clan boss
Without T6 mastery:
With T6 mastery:
Ice Golem's Peak
Dragon's Lair
Spider's Den
Fire Knight's Castle
Minotaur's Labyrinth
Force Keep
Magic Keep
Spirit Keep
Void Keep
Masteries advices
Advices regarding the mastery choice for Cruetraxa.
T6: Warmaster or Giant Slayer?
Clan Boss
We don't have enough information about Cruetraxa to determine whether he should have Warmaster or Giant Slayer as T6 mastery.
Arena
We recommend using Warmaster in the Arena, despite the number of hits any skill from Cruetraxa does.
Recommended builds for Cruetraxa
For Arena, Campaign, Faction Wars
by ayumilove
ATK%, C.RATE, C.DMG, SPD, ACC
ATK%, C.RATE, C.DMG, SPD, ACC
ATK%, C.RATE, C.DMG, SPD, ACC
ATK%, C.RATE, C.DMG, SPD, ACC
For Arena, Campaign, Faction Wars
by ayumilove
ATK%, C.RATE, C.DMG, SPD, ACC
ATK%, C.RATE, C.DMG, SPD, ACC
ATK%, C.RATE, C.DMG, SPD, ACC
ATK%, C.RATE, C.DMG, SPD, ACC
For Arena, Campaign, Faction Wars
by ayumilove
ATK%, C.RATE, C.DMG, SPD, ACC
ATK%, C.RATE, C.DMG, SPD, ACC
ATK%, C.RATE, C.DMG, SPD, ACC
ATK%, C.RATE, C.DMG, SPD, ACC
For Clan Boss, Dungeons
by ayumilove
ATK%, C.RATE, C.DMG, SPD, ACC
ATK%, C.RATE, C.DMG, SPD, ACC
ATK%, C.RATE, C.DMG, SPD, ACC
ATK%, C.RATE, C.DMG, SPD, ACC
For Clan Boss, Dungeons
by ayumilove
ATK%, C.RATE, C.DMG, SPD, ACC
ATK%, C.RATE, C.DMG, SPD, ACC
ATK%, C.RATE, C.DMG, SPD, ACC
ATK%, C.RATE, C.DMG, SPD, ACC
For Clan Boss, Dungeons
by ayumilove
ATK%, C.RATE, C.DMG, SPD, ACC
ATK%, C.RATE, C.DMG, SPD, ACC
ATK%, C.RATE, C.DMG, SPD, ACC
ATK%, C.RATE, C.DMG, SPD, ACC
Masteries for Cruetraxa
For Arena, Campaign, Clan Boss, Dungeons, Faction Wars
by ayumilove
Fusions
Cruetraxa is not part of any fusion
---
Updated on 2021-03-28