Cudgeler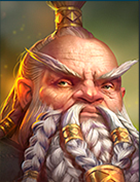 The Harder They Fall
Attacks 1 enemy 2 times. Has an additional 30% chance of incliting a critical hit if the target is under a [Decrease DEF] debuff.
Damage based on: [ATK]


Furious Defense
Has a 20% chance of placing a 30% [Decrease DEF] debuff for 2 turns when attacking targets with higher DEF than this Champion. Has a 20% chance of decreasing the damage taken by 20% when attacked by enemies with higher ATK than this Champion
Lore
The Cudgelers are a small but unique warrior guild that has carved its niche in the Dwarven society. They eschew heavy armour so beloved by their kin and fashion their hair in a style that is clearly influenced by foreign traditions – something that is almost unthinkable for a proper Dwarf. Their weapon of choice is also unusual – a double-handed staff with two mace-like crowns. This they wield with expert precision, deflecting and counterattacking in a frightening flurry of swings and swipes. Legend has it that the founder of the guild – an adventurer whose name had long been lost to history – travelled far and wide, learning what he could of various cultures and their ways of war. None, however, captured his heart quite like the martial arts of the Mysterious East – a land said to lie far beyond the accursed Brimstone Pass and the roiling seas that separate continents. Upon his return, the bold adventurer wished for nothing more than to share his knowledge so that his kin be strengthened by it. And while the isolationist tendencies of the Dwarves made it difficult, he eventually founded a warrior guild – one that would carry his teachings on through the centuries.
Ratings of Cudgeler
Location
Rating
Campaign
Arena
Offensive:
Defensive:
Clan boss
Without T6 mastery:
With T6 mastery:
Ice Golem's Peak
Dragon's Lair
Spider's Den
Fire Knight's Castle
Minotaur's Labyrinth
Force Keep
Magic Keep
Spirit Keep
Void Keep
Masteries advices
Advices regarding the mastery choice for Cudgeler.
T6: Warmaster or Giant Slayer?
Clan Boss
We don't have enough information about Cudgeler to determine whether he should have Warmaster or Giant Slayer as T6 mastery.
Arena
We recommend using Warmaster in the Arena, despite the number of hits any skill from Cudgeler does.
Recommended builds for Cudgeler
For Arena, Campaign, Faction Wars
by ayumilove
ATK%, C.RATE, C.DMG, SPD, ACC
ATK%, C.RATE, C.DMG, SPD, ACC
ATK%, C.RATE, C.DMG, SPD, ACC
ATK%, C.RATE, C.DMG, SPD, ACC
For Clan Boss, Dungeons
by ayumilove
ATK%, C.RATE, C.DMG, SPD, ACC
ATK%, C.RATE, C.DMG, SPD, ACC
ATK%, C.RATE, C.DMG, SPD, ACC
ATK%, C.RATE, C.DMG, SPD, ACC
Masteries for Cudgeler
For Arena, Campaign, Clan Boss, Dungeons, Faction Wars
by ayumilove
---
Updated on 2021-03-28