Dead Crusader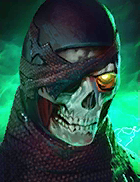 Archaic Gladius
Attacks 1 enemy.

Damage based on: [DEF]
Level 2 Damage +5%
Level 3 Damage +5%
Level 4 Damage +5%
Level 5 Damage +5%

Crypt Blight
Cooldown: 3 turns
Attacks all enemies. Has a 75% chance of placing a 2.5% [Poison] debuff on all enemies for 2 turns.
Damage based on: [DEF]
Level 2 Damage +5%
Level 3 Buff/Debuff Chance +5%
Level 4 Damage +5%
Level 5 Buff/Debuff Chance +10%
Level 6 Damage +10%
Level 7 Buff/Debuff Chance +10%
Lore
Countless battles have been fought across Teleria, many of them long forgotten. The bones of mighty warriors rest deep beneath the earth, there to sleep eternally forevermore… unless a necromancer manages to locate one such battlefield. Then, animated by dark magic and malefic will, the shambling skeletons arise from their graves, ready to enforce their new master's will. Though their souls have long passed into Lumaya's light, the bodies still retain some of the memories and can present a significant threat on the battlefield.
Ratings of Dead Crusader
Location
Rating
Campaign
Arena
Offensive:
Defensive:
Clan boss
Without T6 mastery:
With T6 mastery:
Ice Golem's Peak
Dragon's Lair
Spider's Den
Fire Knight's Castle
Minotaur's Labyrinth
Force Keep
Magic Keep
Spirit Keep
Void Keep
Masteries advices
Advices regarding the mastery choice for Dead Crusader.
T6: Warmaster or Giant Slayer?
Clan Boss
We don't have enough information about Dead Crusader to determine whether he should have Warmaster or Giant Slayer as T6 mastery.
Arena
We recommend using Warmaster in the Arena, despite the number of hits any skill from Dead Crusader does.
Recommended builds for Dead Crusader
For Arena, Campaign, Faction Wars
by ayumilove
Chestplate
(
DEF% / HP% / ACC
)
For Clan Boss, Dungeons
by ayumilove
Chestplate
(
DEF% / HP% / ACC
)
For Clan Boss, Dungeons
by ayumilove
Chestplate
(
DEF% / HP% / ACC
)
Masteries for Dead Crusader
For Arena, Campaign, Clan Boss, Dungeons, Faction Wars
by ayumilove
Fusions
Dead Crusader is not part of any fusion
---
Updated on 2021-03-28