Doompriest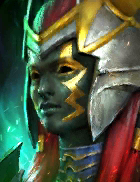 Fate Weave
Attacks 1 enemy. If the hit is critical, places a 15% [Increase C. RATE] buff on a random ally for 2 turns.
Damage based on: [ATK]
Level 2 Damage +5%
Level 3 Damage +5%
Level 4 Damage +5%
Level 5 Damage +10%

Mass Possession
Cooldown: 4 turns
Places a 50% [Increase ATK] buff on all allies for 2 turns.
Level 2 Cooldown -1

Bolster
Heals all allies by 7.5% of their HP and removes 1 random debuff from them at the start of this Champion's turn.

Aura
Increases Force Ally SPD in all battles by 15%
Lore
Doompriest is a missionary of the Knights Revenant death cult. Her faith is strong, as is her command of the dark magic of K'leth. Like all priests, she dedicates much of her life to worship — but she derives her power not from prayer, but from dark ritual and sacrifice. A lovely young girl when she first joined the cult, she now covers her face with a mask to ensure the docility of her victims. With each innocent soul sacrificed, her own bore the taint of her deepening evil and corruption. Her once beautiful visage has decayed with each step down this path, and is now a horror to behold.
Ratings of Doompriest
Location
Rating
Campaign
Arena
Offensive:
Defensive:
Clan boss
Without T6 mastery:
With T6 mastery:
Ice Golem's Peak
Dragon's Lair
Spider's Den
Fire Knight's Castle
Minotaur's Labyrinth
Force Keep
Magic Keep
Spirit Keep
Void Keep
Masteries advices
Advices regarding the mastery choice for Doompriest.
T6: Warmaster or Giant Slayer?
Clan Boss
We recommend using Warmaster, the skill Fate Weave hits 1 time, which will benefit more to Warmaster than Giant Slayer.
Arena
We recommend using Warmaster in the Arena, despite the number of hits any skill from Doompriest does.
Recommended builds for Doompriest
For Arena, Campaign, Faction Wars
by ayumilove
For Arena, Campaign, Faction Wars
by ayumilove
For Arena, Campaign, Faction Wars
by ayumilove
For Clan Boss, Dungeons
by ayumilove
For Clan Boss, Dungeons
by ayumilove
For Clan Boss, Dungeons
by ayumilove
For Clan Boss, Dungeons
by ayumilove
Masteries for Doompriest
For Arena, Campaign, Clan Boss, Dungeons, Faction Wars
by ayumilove
Fusions
Doompriest is not part of any fusion
Great videos on Doompriest
---
Updated on 2021-03-28