Duchess Lilitu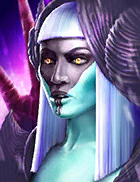 Abyssal Invocation
Attacks 1 enemy 2 times, then places a [Shield] buff equal to 10% of this Champion's MAX HP for 2 turns on this Champion and the ally with the lowest HP.
Damage based on: [DEF]
Level 2: Damage +5%
Level 3: Damage +10%
Level 4: Shield +10%
Level 5: Shield +10%
Level 6: Shield +10%

Shroud of Souls
Cooldown: 5 turns
Places a 50% [Increase ATK] buff and a [Block Debuffs] buff on all allies for 2 turns. Places a [Perfect Veil] buff on all allies except this Champion for 2 turns.
Level 2: Cooldown -1

Spectral Rebirth
Cooldown: 6 turns
Revives all dead allies with 70% HP. Places a [Veil] buff on all allies except this Champion for 1 turn. Places a 15% [Continuous Heal] buff on all allies for 2 turns.
Level 2: Cooldown -1
Level 3: Cooldown -1

Ethereal Ways
Decreases the damage taken by all allies from AoE attacks by 25% (15% from Bosses).

Aura
Increases Ally SPD in all Battles by 19%
Lore
Duchess Lilitu is one of the most powerful demons in Siroth's legions and a lieutenant of Mortu-Macaab. Her sorcerous powers are only matched by her cunning mind and experience. Indeed, Lilitu had the benefit of existing for thousands of years, learning all there is to learn about Dark Magic and the hellish intrigues of the demonic courts. In fact, she has lived long enough to personally take part in no less than three invasions of Teleria. She battled the Arbiter and survived the experience – barely, not that she would ever admit to the fact – which is an achievement in its own right. One of Lilitu's greatest strength is her wise assessment of her own talents and the lack of arrogance that is so very common among her kin. She knows that she is no warrior of legend and would be of little use in the swirling melee. Instead, she focuses her powers on empowering and protecting those who fight for her. In battle, Lilitu chants incantations and spell in the dark tongue now forgotten by all but the servants of Siroth, calling upon the very fabric of the Void to shiel her allies. She does that not out of the kindness of her heart, of course, but with a cold and calculated purpose of keeping her minions alive for long enough to carry out her will. For that very reason she will expend a great deal of magical energy to seize the souls of the fallen and guide them back into their mortal vessels, healing their wounds and making them fight anew. Now, as the dark will of Siroth envelops the whole of Teleria once more, Lilitu strikes out from her infernal palace, her armies at her back. It is high time the mortals pay for past insults and bend the knee at long last.
Ratings of Duchess Lilitu
Location
Rating
Campaign
Arena
Offensive:
Defensive:
Clan boss
Without T6 mastery:
With T6 mastery:
Ice Golem's Peak
Dragon's Lair
Spider's Den
Fire Knight's Castle
Minotaur's Labyrinth
Force Keep
Magic Keep
Spirit Keep
Void Keep
Masteries advices
Advices regarding the mastery choice for Duchess Lilitu.
T6: Warmaster or Giant Slayer?
Clan Boss
We don't have enough information about Duchess Lilitu to determine whether he should have Warmaster or Giant Slayer as T6 mastery.
Arena
We recommend using Warmaster in the Arena, despite the number of hits any skill from Duchess Lilitu does.
Recommended builds for Duchess Lilitu
For Arena, Campaign, Faction Wars
by ayumilove
For Arena, Campaign, Faction Wars
by ayumilove
For Arena, Campaign, Faction Wars
by ayumilove
For Clan Boss, Dungeons
by ayumilove
For Clan Boss, Dungeons
by ayumilove
Masteries for Duchess Lilitu
For Arena, Campaign, Faction Wars
by ayumilove
For Clan Boss, Dungeons
by ayumilove
Fusions
Duchess Lilitu is not part of any fusion
Great videos on Duchess Lilitu
---
Updated on 2021-03-28