Fang Cleric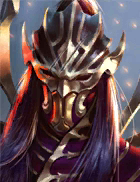 Conduit Fangs
Attacks 1 enemy. Has a 75% chance of transferring 1 random debuff from this Champion to the target.
Damage based on: [ATK]

Shadowy Blessings
Cooldown: 3 turns
Heals an ally by 20% of this Champion's MAX HP. Also fills the target's Turn Meter by 30% if they are fully healed by this Skill. Places a [Veil] buff on the target for 1 turn if they are not fully healed by this Skill

Return to the Ranks
Cooldown: 6 turns
Revives a dead ally with 30% HP, then fills their Turn Meter by 30%. Also places an [Unkillable] buff on the target for 1 turn and a 15% [Continuous Heal] buff for 2 turns.

Aura
Increases Ally SPD in all Battles by 15%
Lore
One would be hard-pressed to identify a central religion that would bind the byzantine society of the Dark Elves, for their loyalty is to themselves first, last, and always. Far wiser to the mystical ways of Teleria than the primitive tribes of Barbarians or monstrous humanoids like Orks and Ogryn, these cunning exiles do not delude themselves into thinking spirits or eldritch entities are true gods – even if the power they extend over the mortal plane is immense. Of course, these powers can be used to one's advantage, and there are many Dark Elves who pay lip service to various magical beings. Some, however, go further. The Fang Clerics worship a variety of spirits, whose strength is drawn from blood and death. Many of the 'clergy' are former assassins and have sought the aid of their patrons in the past when they were stalking their victims. As such, these Fang Clerics as they call themselves retain many of their former habits and skills, preferring to work from the shadows. The blessings they provide can allow an ally's presence to be concealed, for the enemy's hexes to turned to the Fang Cleric's own advantage. Some are even capable of calling upon the Spirits of Murder, staying their hunger with promises of greater sacrifice in exchange for the life of an ally who had recently fallen.
Ratings of Fang Cleric
Location
Rating
Campaign
Arena
Offensive:
Defensive:
Clan boss
Without T6 mastery:
With T6 mastery:
Ice Golem's Peak
Dragon's Lair
Spider's Den
Fire Knight's Castle
Minotaur's Labyrinth
Force Keep
Magic Keep
Spirit Keep
Void Keep
Masteries advices
Advices regarding the mastery choice for Fang Cleric.
T6: Warmaster or Giant Slayer?
Clan Boss
We don't have enough information about Fang Cleric to determine whether he should have Warmaster or Giant Slayer as T6 mastery.
Arena
We recommend using Warmaster in the Arena, despite the number of hits any skill from Fang Cleric does.
Recommended builds for Fang Cleric
For Arena, Campaign, Faction Wars
by ayumilove
For Arena, Campaign, Faction Wars
by ayumilove
For Clan Boss, Dungeons
by ayumilove
For Clan Boss, Dungeons
by ayumilove
For Clan Boss, Dungeons
by ayumilove
Masteries for Fang Cleric
For Arena, Campaign, Clan Boss, Dungeons, Faction Wars
by ayumilove
---
Updated on 2021-03-28