Fencer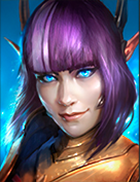 Enchanted Rapier
Attacks 1 enemy 2 times. Each hit has a 15% chance of placing a 15% [Decrease SPD] debuff for 2 turns
Damage based on: [ATK]

Blade Flourish
Attacks all enemies. Has a 75% chance of placing a 30% [Decrease DEF] debuff for 2 turns.
Damage based on: [ATK]

Aura
Increases Ally ATK in Dungeons by 23%
Lore
With pride, elegance, and subtlety being the driving virtues of their culture, High Elves often look down on the human tradition of knightly tournaments. The flair of jousting, the crude clash of lances and swords do not appeal to their sense of honour as much as a true test of finesse and skill that is embodied in a fencing duel. Many Aravian nobles prefer slim-bladed weapons such as rapiers and sabers to the heftier swords of their human allies. They are often tutored in dance-like arts of Elven Sword Schools, where a single precise thrust to the heart is valued far above swinging an oversized greatsword about and taking heads off the shoulders of multiple opponents at once. The Masters of these schools are the epitome of High Elven martial skill – they dress in garish finery, decorated with gold, silver, and gems, they carry perfectly balanced enchanted rapiers, and they are absolutely deadly in battle. Their motions are like flowing water, their bodies twist and turn with seamless grace as Elven fencers avoid the brutish swings of their foes, and their blades strike like lightning, true and unstoppable. To have one such Fencer on their side would benefit any Summoner. Fortunately, there is no lack of brush young nobles seeking adventure in Aravia.
Ratings of Fencer
Location
Rating
Campaign
Arena
Offensive:
Defensive:
Clan boss
Without T6 mastery:
With T6 mastery:
Ice Golem's Peak
Dragon's Lair
Spider's Den
Fire Knight's Castle
Minotaur's Labyrinth
Force Keep
Magic Keep
Spirit Keep
Void Keep
Masteries advices
Advices regarding the mastery choice for Fencer.
T6: Warmaster or Giant Slayer?
Clan Boss
We don't have enough information about Fencer to determine whether he should have Warmaster or Giant Slayer as T6 mastery.
Arena
We recommend using Warmaster in the Arena, despite the number of hits any skill from Fencer does.
Recommended builds for Fencer
For Arena, Campaign, Faction Wars
by ayumilove
ATK%, C.RATE, C.DMG, SPD, ACC
ATK%, C.RATE, C.DMG, SPD, ACC
ATK%, C.RATE, C.DMG, SPD, ACC
ATK%, C.RATE, C.DMG, SPD, ACC
ATK%, C.RATE, C.DMG, SPD, ACC
For Clan Boss, Dungeons
by ayumilove
Masteries for Fencer
For Arena, Campaign, Clan Boss, Dungeons, Faction Wars
by ayumilove
---
Updated on 2021-03-28