Flesh-Tearer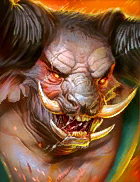 Multiply Misery
Attacks 1 enemy. Has a 40% chance of transferring 1 random debuff from this Champion to the target.
Damage based on: [ATK]
Level 2 Damage +5%
Level 3 Buff/Debuff Chance +5%
Level 4 Buff/Debuff Chance +5%

Warleader
Cooldown: 4 turns
Heals all allies by 30% of their MAX HP. Increases the duration of all ally buffs by 1 turn.
Level 2 Heal +5%
Level 3 Heal +5%
Level 4 Heal +5%
Level 5 Heal +5%

Lay Low
Cooldown: 5 turns
Attacks all enemies. Decreases the duration of all enemy buffs by 1 turn. Increases the duration of all enemy debuffs by 1 turn.
Damage based on: [ATK]
Level 2 Damage +5%
Level 3 Damage +5%
Level 4 Damage +10%
Level 5 Cooldown -1

Aura
Increases Ally ATK in Faction Crypts by 27%
Lore
It is a common assumption among Skinwalkers that the bigger one's horns or antlers, the stronger one is. That is, of course, a vestige of their bestial nature, one that is often proven to be untrue. The Flesh-Tearer is a very good example of this. Despite his fear-inspiring name, he is no fearsome warrior but a wise healer who can keep others alive. The secrets of handling herbs were passed to Flesh-Tearer from his father, just like they were from his father's father before that.
Ratings of Flesh-Tearer
Location
Rating
Campaign
Arena
Offensive:
Defensive:
Clan boss
Without T6 mastery:
With T6 mastery:
Ice Golem's Peak
Dragon's Lair
Spider's Den
Fire Knight's Castle
Minotaur's Labyrinth
Force Keep
Magic Keep
Spirit Keep
Void Keep
Masteries advices
Advices regarding the mastery choice for Flesh-Tearer.
T6: Warmaster or Giant Slayer?
Clan Boss
We recommend using Warmaster, the skill Multiply Misery hits 1 time, which will benefit more to Warmaster than Giant Slayer.
Arena
We recommend using Warmaster in the Arena, despite the number of hits any skill from Flesh-Tearer does.
Recommended builds for Flesh-Tearer
For Arena, Campaign, Faction Wars
by ayumilove
ATK%, C.RATE, C.DMG, SPD, ACC
ATK%, C.RATE, C.DMG, SPD, ACC
ATK%, C.RATE, C.DMG, SPD, ACC
ATK%, C.RATE, C.DMG, SPD, ACC
ATK%, C.RATE, C.DMG, SPD, ACC
For Clan Boss, Dungeons
by ayumilove
ATK%, C.RATE, C.DMG, SPD, ACC
ATK%, C.RATE, C.DMG, SPD, ACC
ATK%, C.RATE, C.DMG, SPD, ACC
ATK%, C.RATE, C.DMG, SPD, ACC
ATK%, C.RATE, C.DMG, SPD, ACC
Masteries for Flesh-Tearer
For everywhere
by ayumilove
Fusions
Flesh-Tearer is not part of any fusion
---
Updated on 2021-03-28