Fleshmonger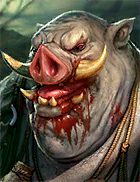 Thorough Butchery
Attacks 1 enemy 3 times.
Damage based on: [ATK]


Tornado Cleaver
Attacks all enemies. Has a 50% chance of placing a 60% [Decrease DEF] debuff for 2 turns.
Damage based on: [ATK]

Aura
Increases Ally ATK in Dungeons by 23%
Lore
In the civilized Kingdoms of Teleria, commoners and nobles alike fear the Skinwalkers; they are creatures of nightmares, half-men, half-beasts, bloodthirsty and vile. Many of these tales are exaggerated and overblown, for it is a natural vice of most sentient races to fear the unknown and look with suspicion upon those different from them. Alas, there are cases when even the darkest fantasies coalesce into a single despicable being. The Fleshmonger is one such tale, he is a violent monster whose taste for flesh and sadistic tendencies coupled with his strength make for a terrifying foe. Once a slave in the mines belonging to the Mage-Barons, the creature quickly learned that might makes right and that only the strongest survived. Worse yet, when the meagre rations given to slaves had proven to be too little for the great beast's bulk, he started seeking other sources of food. At first, the bodies of his fellow slaves who had fallen to hard labour or the cruelty of their overseers sufficed. Then the murders started. By the time anyone was any wiser, the creature who was to become known as the Fleshmonger took the chance to enact a bloody escape. Where he is now no one can tell, but the wilderness between Arnoc and Narbuk has become dangerous in the past few years, with local villagers and travellers vanishing off the overgrown forest trails. Rumours abound of bloodied limbs, skeletal remains with bones gnawed and splintered by teeth, and the sightings of a massive boar-like brute, and only the foolhardy would dare to try and seek this creature out to establish the truth.
Ratings of Fleshmonger
Location
Rating
Campaign
Arena
Offensive:
Defensive:
Clan boss
Without T6 mastery:
With T6 mastery:
Ice Golem's Peak
Dragon's Lair
Spider's Den
Fire Knight's Castle
Minotaur's Labyrinth
Force Keep
Magic Keep
Spirit Keep
Void Keep
Masteries advices
Advices regarding the mastery choice for Fleshmonger.
T6: Warmaster or Giant Slayer?
Clan Boss
We don't have enough information about Fleshmonger to determine whether he should have Warmaster or Giant Slayer as T6 mastery.
Arena
We recommend using Warmaster in the Arena, despite the number of hits any skill from Fleshmonger does.
Recommended builds for Fleshmonger
For Arena, Campaign, Faction Wars
by ayumilove
ATK%, C.RATE, C.DMG, SPD, ACC
ATK%, C.RATE, C.DMG, SPD, ACC
ATK%, C.RATE, C.DMG, SPD, ACC
ATK%, C.RATE, C.DMG, SPD, ACC
For Clan Boss, Dungeons
by ayumilove
Masteries for Fleshmonger
For Arena, Campaign, Clan Boss, Dungeons, Faction Wars
by ayumilove
---
Updated on 2021-03-28