Frontline Warrior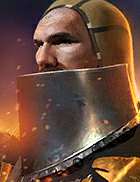 Skills of Frontline Warrior

Wrath Hew
Attacks all enemies.

Damage based on: [DEF]
Level 2 Damage +5%
Level 3 Damage +5%
Level 4 Damage +5%

Comrades in Arms
Cooldown: 5 turns
Places a 25% [Ally Protection] buff on the ally with the lowest HP for 2 turns. Grants an Extra Turn.
Damage based on: [DEF]
Level 2 Cooldown -1
Lore
Knights and feudal militia make up the bulk of the armies of Kaerok, though professional soldiers do exist. These are usually particularly talented or lucky commoners who had proven themselves in the eyes of their liege, justifying additional expenses sustained to outfit and arm them. They will never quite match the quality of armour or weapons that the Knights wield, but they are equipped well enough to hold the front against many foes and are often utilized as the first line of defense by the Banner Lords.
Ratings of Frontline Warrior
Location
Rating
Campaign
Arena
Offensive:
Defensive:
Clan boss
Without T6 mastery:
With T6 mastery:
Ice Golem's Peak
Dragon's Lair
Spider's Den
Fire Knight's Castle
Minotaur's Labyrinth
Force Keep
Magic Keep
Spirit Keep
Void Keep
Masteries advices
Advices regarding the mastery choice for Frontline Warrior.
T6: Warmaster or Giant Slayer?
Clan Boss
We don't have enough information about Frontline Warrior to determine whether he should have Warmaster or Giant Slayer as T6 mastery.
Arena
We recommend using Warmaster in the Arena, despite the number of hits any skill from Frontline Warrior does.
Recommended builds for Frontline Warrior
For Arena, Campaign, Faction Wars
by ayumilove
For Clan Boss, Dungeons
by ayumilove
Fusions
Frontline Warrior is not part of any fusion
---
Updated on 2021-03-28