Frostskin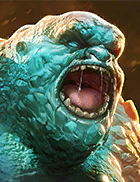 Frozen Fists
Attacks 1 enemy. Has a 20% chance of placing a [Freeze] debuff for 1 turn.
Damage based on: [ATK]
Level 2 Damage +5%
Level 3 Damage +5%
Level 4 Buff/Debuff Chance +5%
Level 5 Buff/Debuff Chance +5%

Sap Strength
Cooldown: 4 turns
Fully depletes a target ally's Turn Meter. Heals that ally equal to 50% of the lost Turn Meter. Heals the target by 10% if their Turn Meter is less than 10% full.Level 3 Heal +10%
Level 4 Cooldown -1
Lore
Commonly known as Frostskins, these ice trolls dwell in the snowy mountains and ice-covered plains of Telerian North. Yet as the Shadow grows and its corruption spreads across the land, many of them are forced to abandon their cavernous homes and either join their kin to form tribes or roaming bands, or seek to survive on their own. The magic that flows through their veins does have visible effects, allowing Frostskins to chill anything they touch – often turning their foes to ice. But they are also capable of using that same magic to heal injuries, should they choose to, even if the process is as slow as the change of seasons in their frozen homeland.
Ratings of Frostskin
Location
Rating
Campaign
Arena
Offensive:
Defensive:
Clan boss
Without T6 mastery:
With T6 mastery:
Ice Golem's Peak
Dragon's Lair
Spider's Den
Fire Knight's Castle
Minotaur's Labyrinth
Force Keep
Magic Keep
Spirit Keep
Void Keep
Masteries advices
Advices regarding the mastery choice for Frostskin.
T6: Warmaster or Giant Slayer?
Clan Boss
We don't have enough information about Frostskin to determine whether he should have Warmaster or Giant Slayer as T6 mastery.
Arena
We recommend using Warmaster in the Arena, despite the number of hits any skill from Frostskin does.
Recommended builds for Frostskin
For Arena, Campaign, Faction Wars
by ayumilove
ATK%, C.RATE, C.DMG, SPD, ACC
ATK%, C.RATE, C.DMG, SPD, ACC
ATK%, C.RATE, C.DMG, SPD, ACC
ATK%, C.RATE, C.DMG, SPD, ACC
For Clan Boss, Dungeons
by ayumilove
ATK%, C.RATE, C.DMG, SPD, ACC
ATK%, C.RATE, C.DMG, SPD, ACC
ATK%, C.RATE, C.DMG, SPD, ACC
ATK%, C.RATE, C.DMG, SPD, ACC
Fusions
Frostskin is not part of any fusion
---
Updated on 2021-03-28