Galkut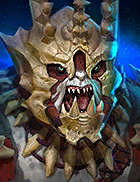 Mangle Limbs
Attacks 1 enemy 2 times. Has a 25% chance of placing a 60% [Decrease DEF] debuff for 2 turns.
Damage based on: [ATK]
Level 2 Damage +5%
Level 3 Damage +10%
Level 4 Buff/Debuff Chance +10%
Level 5 Buff/Debuff Chance +15%

Brutal Battering
Cooldown: 4 turns
Attacks all enemies 1 by 1 in random order. Damage inflicted decreases by 25% after each hit.
Damage based on: [ATK]
Level 2 Damage +5%
Level 3 Damage +5%
Level 4 Damage +10%
Level 5 Cooldown -1 mie

Boom Barrage
Cooldown: 5 turns
Attacks all enemies. Places a [Bomb] that detonates after 2 turns.
Damage based on: [ATK]
Level 2 Damage +5%
Level 3 Damage +5%
Level 4 Damage +10%
Level 5 Cooldown -1

Aura
Increases Ally C.RATE in Dungeons by 24%
Lore
Few of the Ogryn or Troll tribes living in the wilds have the means or knowledge required to tame steel. Thus, many of their warriors are armed with primitive clubs, stone axes, weapons looted on the battlefields or, sometimes, purchased from the rare merchants that are willing to trade with such dangerous customers. Galkut, on the other hand, takes a more creative approach. His arms and armour are crafted from the bones of slain enemies, serving both to offer protection and to inspire fear in the hearts of his opponents. And the best part? Each victory brings a chance to enhance Galkut's armour, assuming there is enough "material" left to work with.
Ratings of Galkut
Location
Rating
Campaign
Arena
Offensive:
Defensive:
Clan boss
Without T6 mastery:
With T6 mastery:
Ice Golem's Peak
Dragon's Lair
Spider's Den
Fire Knight's Castle
Minotaur's Labyrinth
Force Keep
Magic Keep
Spirit Keep
Void Keep
Masteries advices
Advices regarding the mastery choice for Galkut.
T6: Warmaster or Giant Slayer?
Clan Boss
We recommend using Warmaster, the skill Mangle Limbs hits 2 time, which will benefit more to Warmaster than Giant Slayer.
Arena
We recommend using Warmaster in the Arena, despite the number of hits any skill from Galkut does.
Recommended builds for Galkut
For Arena, Campaign, Faction Wars
by ayumilove
ATK%, C.RATE, C.DMG, ACC, SPD
ATK%, C.RATE, C.DMG, ACC, SPD
ATK%, C.RATE, C.DMG, ACC, SPD
ATK%, C.RATE, C.DMG, ACC, SPD
For Arena, Campaign, Faction Wars
by ayumilove
ATK%, C.RATE, C.DMG, ACC, SPD
ATK%, C.RATE, C.DMG, ACC, SPD
ATK%, C.RATE, C.DMG, ACC, SPD
ATK%, C.RATE, C.DMG, ACC, SPD
For Clan Boss, Dungeons
by ayumilove
ATK%, C.RATE, C.DMG, ACC, SPD
ATK%, C.RATE, C.DMG, ACC, SPD
ATK%, C.RATE, C.DMG, ACC, SPD
ATK%, C.RATE, C.DMG, ACC, SPD
Masteries for Galkut
For Arena, Campaign, Clan Boss, Dungeons, Faction Wars
by ayumilove
Fusions
Galkut is not part of any fusion
---
Updated on 2021-03-28