Gravechill Killer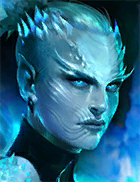 Skills of Gravechill Killer

Freezing Toxin
Attacks 1 enemy. Has a 40% chance of placing a 5% [Poison] debuff for 1 turn.
Damage based on: [ATK]
Level 2: Damage +5%
Level 3: Buff/Debuff Chance +5%
Level 4: Damage +5%
Level 5: Buff/Debuff Chance +5%

Blood Chill
Cooldown: 4 turns
Attacks 1 enemy. Has a 75% chance of placing a 30% [Decrease DEF] debuff for 2 turns. Has a 75% chance of placing a 60% [Decrease DEF] debuff instead if the target is under a [Poison] debuff.
Damage based on: [ATK]
Level 2: Buff/Debuff Chance +5%
Level 3: Buff/Debuff Chance +10%
Level 4: Buff/Debuff Chance +10%
Level 5: Cooldown -1

Icy Veins
Cooldown: 5 turns
Attacks 1 enemy 2 times. Each hit places a 2.5% [Poison] debuff for 2 turns. Places a 5% [Poison] debuff instead if the target is under a [Poison Sensitivity] debuff.
Damage based on: [ATK]
Level 2: Damage +5%
Level 3: Damage +10%
Level 4: Damage +10%
Level 5: Damage +10%
Level 6: Cooldown -1
Level 7: Cooldown -1
Lore
The dead of Teleria are not always a quiet lot; some have a nasty habit of ignoring the core principles of mortality and walking the earth once more, terrifying the living and sometimes worse. The powers that bring these unfortunate souls back from the Afterlife are as varied as the Undead themselves. Some may be raised by a necromancer as little more than a shambling empty shell, others willingly condemn themselves to this bleak existence for fear of death. The Gravechill Killer is an aptly named abomination of a rather peculiar nature. She was likely a sorceress in the service of Siroth once, perhaps even a necromancer who commanded the Undead swarms invading the Winterlands. Whether by blade, by spell, or by her own folly, she was slain and left forgotten beneath the snow. But some malice cannot be tempered by death. When a new onslaught of darkness began, this creature rose from her icy grave, her eyes burning with sorcerous power and lust for vengeance. The Champions who find themselves facing the Gravechill Killer would do well to beware, for her frozen blade is steeped in venom and is sharp enough to cleave through even the toughest armour.
Ratings of Gravechill Killer
Location
Rating
Campaign
Arena
Offensive:
Defensive:
Clan boss
Without T6 mastery:
With T6 mastery:
Ice Golem's Peak
Dragon's Lair
Spider's Den
Fire Knight's Castle
Minotaur's Labyrinth
Force Keep
Magic Keep
Spirit Keep
Void Keep
Synergy
Gravechill Killer's abilities can be paired with the following champions for better results.
Poison and Counterattack
Mixing a champion having A1 applying a Poison debuff, and a champion able to place a counterattack buff on him, is a very good situational synergy that can be impressive during Clan Boss battles.
Masteries advices
Advices regarding the mastery choice for Gravechill Killer.
T6: Warmaster or Giant Slayer?
Clan Boss
We don't have enough information about Gravechill Killer to determine whether he should have Warmaster or Giant Slayer as T6 mastery.
Arena
We recommend using Warmaster in the Arena, despite the number of hits any skill from Gravechill Killer does.
Recommended builds for Gravechill Killer
For Arena, Campaign, Faction Wars
by ayumilove
Chestplate
(
DEF% / HP% / ACC
)
For Clan Boss, Dungeons
by ayumilove
Chestplate
(
DEF% / HP% / ACC
)
Masteries for Gravechill Killer
For Arena, Campaign, Clan Boss, Dungeons, Faction Wars
by ayumilove
Fusions
Gravechill Killer is not part of any fusion
Great videos on Gravechill Killer
---
Updated on 2021-03-28