Grumbler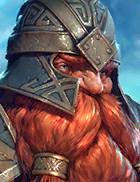 Angry Mallet
Attacks 1 enemy.
Places a [Shield] buff on this Champion equal to 10% of their MAX HP for 2 turns

No Coming Back
Cooldown: 3 turns
Attacks 1 enemy.
Places a 50% [Heal Reduction] debuff for 2 turns.
Damage based on: [HP][DEF]

Shoulder the Weight
Cooldown: 5 turns
Places a 25% [Ally Protection] buff on all allies for 2 turns.
Places a 30% [Increase DEF] buff on this Champion for 2 turns

Aura
Increases Ally HP in Dungeons by 25%
Lore
It is a well-known fact that a proper Dwarf is made up of these three essential elements: a beard, a heavy armour along with an axe or shield, and a foul temper. Indeed, Dwarves absolutely need to complain about something constantly, lest they wither away – so the wisdom of High Elves says anyway. The Grumblers personify that, albeit few call them that to their faces. These veteran warriors make up the backbone of many Dwarven armies, and their skill is only matched by their constant displeasure with this or that. But one should not be fooled by this dour attitude. Like many of their kind, Grumblers will gladly put themselves in harm's way for their allies and fight to their last breath if they have to. It would be difficult to find a more dedicated friend, even if securing the respect of grizzled Dwarven soldiers is no easy task.
Ratings of Grumbler
Location
Rating
Campaign
Arena
Offensive:
Defensive:
Clan boss
Without T6 mastery:
With T6 mastery:
Ice Golem's Peak
Dragon's Lair
Spider's Den
Fire Knight's Castle
Minotaur's Labyrinth
Force Keep
Magic Keep
Spirit Keep
Void Keep
Masteries advices
Advices regarding the mastery choice for Grumbler.
T6: Warmaster or Giant Slayer?
Clan Boss
We don't have enough information about Grumbler to determine whether he should have Warmaster or Giant Slayer as T6 mastery.
Arena
We recommend using Warmaster in the Arena, despite the number of hits any skill from Grumbler does.
Recommended builds for Grumbler
For Arena, Campaign, Faction Wars
by ayumilove
For Clan Boss, Dungeons
by ayumilove
Masteries for Grumbler
For Arena, Campaign, Clan Boss, Dungeons, Faction Wars
by ayumilove
---
Updated on 2021-03-28