Hakkorhn Smashlord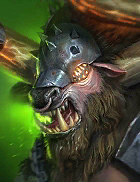 Skills of Hakkorhn Smashlord

Inhuman Force
Attacks 1 enemy. Has a 40% chance of placing a [Stun] debuff for 1 turn.
Damage based on: [HP]
Level 2: Damage +5%
Level 3: Buff/Debuff Chance +5%
Level 4: Damage +10%
Level 5: Buff/Debuff Chance +10%

Rallying Bellow
Cooldown: 4 turns
Removes all debuffs from all allies, then places a [Block Debuffs] buff on all allies for 2 turns. Heals all allies by 15% of this Champion's HP. Heals each ally by an extra 10% of this Champion's MAX HP for each debuff removed from them.
Level 2: Heal +5%
Level 3: Heal +5%
Level 4: Heal +5%
Level 5: Heal +5%

Blood Offering
Cooldown: 5 turns
Sacrifices HP equal to 25% of this Champion's MAX HP, then attacks all enemies. Damage inflicted is equal to 50% of this Champion's MAX HP. This attack is always a normal hit. The HP sacrifice will happen even if it kills this Champion.
Level 2: Cooldown -1

Aura
Increases Ally HP in Dungeons by 33%.
Lore
Skinwalkers, prized for their natural resilience and strength, often become the target of slavers from all across Teleria. The Dark Elves, though often allied with certain tribes, are particularly fond of capturing the creatures they see as little more than beasts and using them for back-breaking labour or bloody gladiator battles for their own twisted amusement. Sometimes, the unfortunate few become the unwilling subjects for magicians seeking to unlock further mysteries of the Dark Arts. Such was the fate of a minotaur known only as Hakkorhn Smashlord today. Whatever his former life used to be, it was burned to ashes. Everything stripped from him. Horrific experiments conducted by a Dark Elf witch coven infused the poor creature with a fiery rage that could not be quenched. Thus strengthened beyond even his beastly physique, the Smashlord was unleashed upon one of the slave-fighter arenas. The results were far more spectacular than his new masters could imagine, and for years the Hakkorhn reigned as the undisputed champion. But despite the various enchantments and hexes, the minotaur's will still simmered underneath. Slowly, he started regaining his former self until one fateful day where, in the midst of combat, the Smashlord turned on his captors and cut a bloody swathe through the guards with the help of his fellow slaves. Such was the carnage, that the stunned Dark Elves did not give pursuit until reinforcements arrived from a neighboring hold. And by that point, Hakkorhn and the other rebels were long gone. Though still tortured by dark spells that once bound his will, the Hakkorhn roams the land as an errant warrior in search of a worthy cause to lend his strength to.
Ratings of Hakkorhn Smashlord
Location
Rating
Campaign
Arena
Offensive:
Defensive:
Clan boss
Without T6 mastery:
With T6 mastery:
Ice Golem's Peak
Dragon's Lair
Spider's Den
Fire Knight's Castle
Minotaur's Labyrinth
Force Keep
Magic Keep
Spirit Keep
Void Keep
Masteries advices
Advices regarding the mastery choice for Hakkorhn Smashlord.
T6: Warmaster or Giant Slayer?
Clan Boss
We recommend using Warmaster, the skill Inhuman Force hits 1 time, which will benefit more to Warmaster than Giant Slayer.
Arena
We recommend using Warmaster in the Arena, despite the number of hits any skill from Hakkorhn Smashlord does.
Recommended builds for Hakkorhn Smashlord
For Arena, Campaign, Faction Wars
by ayumilove
For Arena, Campaign, Faction Wars
by ayumilove
For Arena, Campaign, Faction Wars
by ayumilove
For Clan Boss, Dungeons
by ayumilove
Masteries for Hakkorhn Smashlord
For Arena, Campaign, Clan Boss, Dungeons, Faction Wars
by ayumilove
Fusions
Hakkorhn Smashlord is not part of any fusion
---
Updated on 2021-03-28