Hatchet Slinger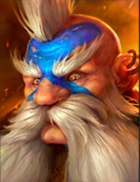 Skills of Hatchet Slinger

Axe Frenzy
Attacks 1 enemy 2 times. Has an 80% chance of ignore 15% of the target's DEF if this Champion has 50% HP or higher. Has a 10% chance of placing a [Stun] debuff for 1 turn if this CHampion has less than 50% HP.
Damage based on: [ATK]

Hatchets For All
Has a 5% chance of counterattacking when hit. Has a 25% chance of counterattacking when hit with a critical hit
Lore
While the bulk of Dwarven armies value discipline, there are those among the Children of the Stone who are far too wild-natured for line service. These mavericks, often recruited from the outcasts of the Dwarven society, are still useful, however. Wild they may be, but many fierce warriors can be found within their ranks. Hatchet Slingers are one such unit – skirmishers drafted from the lowest castes of the Kingdom, given basic gear and tasked with harassing the enemy. Far too unreliable to be trusted with a powerful ranged weapon such as a crossbow, they are instead allowed to carry a ridiculous number of throwing axes. Still, in experienced hands, even these become terrifying, as many of the Mountain King's enemies have found out.
Ratings of Hatchet Slinger
Location
Rating
Campaign
Arena
Offensive:
Defensive:
Clan boss
Without T6 mastery:
With T6 mastery:
Ice Golem's Peak
Dragon's Lair
Spider's Den
Fire Knight's Castle
Minotaur's Labyrinth
Force Keep
Magic Keep
Spirit Keep
Void Keep
Masteries advices
Advices regarding the mastery choice for Hatchet Slinger.
T6: Warmaster or Giant Slayer?
Clan Boss
We don't have enough information about Hatchet Slinger to determine whether he should have Warmaster or Giant Slayer as T6 mastery.
Arena
We recommend using Warmaster in the Arena, despite the number of hits any skill from Hatchet Slinger does.
Recommended builds for Hatchet Slinger
For Arena, Campaign, Faction Wars
by ayumilove
For Clan Boss, Dungeons
by ayumilove
Masteries for Hatchet Slinger
For Arena, Campaign, Clan Boss, Dungeons, Faction Wars
by ayumilove
---
Updated on 2021-03-28