Head Taker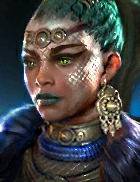 Carve Up
Attacks 1 enemy.
Damage based on: [ATK]
Level 2 Damage +5%
Level 3 Damage +5%
Level 4 Damage +5%
Level 5 Damage +5%

Weaking
Attacks 1 enemy. Has a 50% chance of decreasing the Turn Meter by 20%
Damage based on: [ATK]
Level 2 Damage +5%
Level 3 Damage +5%
Level 4 Damage +10%
Level 5 Damage +10%
Level 6 Buff/Debuff Chance +10%
Level 7 Buff/Debuff Chance +15%
Lore
Wealthy heirs of Barbarian Clans are often among the first ranks of any raiding or invading force. They adorn themselves with bright colours and garishly decorated outfits, screaming their defiance and competing between themselves in bravery and martial skill. Sometimes, these competitions turn quite macabre and involve tallying the heads of slain enemies to determine the most prospective young warrior. One thing is certain, anyone would be wise to remain cautious when dealing with wild and eager fighters like that!
Ratings of Head Taker
Location
Rating
Campaign
Arena
Offensive:
Defensive:
Clan boss
Without T6 mastery:
With T6 mastery:
Ice Golem's Peak
Dragon's Lair
Spider's Den
Fire Knight's Castle
Minotaur's Labyrinth
Force Keep
Magic Keep
Spirit Keep
Void Keep
Masteries advices
Advices regarding the mastery choice for Head Taker.
T6: Warmaster or Giant Slayer?
Clan Boss
We don't have enough information about Head Taker to determine whether he should have Warmaster or Giant Slayer as T6 mastery.
Arena
We recommend using Warmaster in the Arena, despite the number of hits any skill from Head Taker does.
Recommended builds for Head Taker
For Arena, Campaign, Faction Wars
by ayumilove
ATK%, C.RATE, C.DMG, SPD, ACC
ATK%, C.RATE, C.DMG, SPD, ACC
ATK%, C.RATE, C.DMG, SPD, ACC
ATK%, C.RATE, C.DMG, SPD, ACC
For Clan Boss, Dungeons
by ayumilove
ATK%, C.RATE, C.DMG, SPD, ACC
ATK%, C.RATE, C.DMG, SPD, ACC
ATK%, C.RATE, C.DMG, SPD, ACC
ATK%, C.RATE, C.DMG, SPD, ACC
Fusions
Head Taker is not part of any fusion
---
Updated on 2021-03-28