Heartpiercer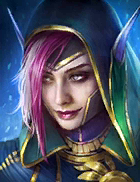 Perforate
Attacks 1 enemy.
Damage based on: [ATK]
Level 2 Damage +5%
Level 3 Damage +5%
Level 4 Damage +5%
Level 5 Damage +5%

Sight In
Cooldown: 4 turns
Attacks 1 enemy. If the hit is critical, places a 25% [Increase ATK] buff on this Champion for 2 turns.
Damage based on: [ATK]
Level 2 Damage +5%
Level 3 Damage +5%
Level 4 Damage +5%
Level 5 Damage +5%
Level 6 Cooldown -1
Lore
Trained in the ranks of the elven rangers, Heartpiercer is a prodigy when it comes to using her bow to her advantage in battle. Though she could easily hunt any beast in Darkwood Forest, her defensive skills leave much to be desired. She is seldom found alone, and fights best with an ally at her side.
Ratings of Heartpiercer
Location
Rating
Campaign
Arena
Offensive:
Defensive:
Clan boss
Without T6 mastery:
With T6 mastery:
Ice Golem's Peak
Dragon's Lair
Spider's Den
Fire Knight's Castle
Minotaur's Labyrinth
Force Keep
Magic Keep
Spirit Keep
Void Keep
Masteries advices
Advices regarding the mastery choice for Heartpiercer.
T6: Warmaster or Giant Slayer?
Clan Boss
We don't have enough information about Heartpiercer to determine whether he should have Warmaster or Giant Slayer as T6 mastery.
Arena
We recommend using Warmaster in the Arena, despite the number of hits any skill from Heartpiercer does.
Recommended builds for Heartpiercer
For Arena, Campaign, Faction Wars
by ayumilove
For Clan Boss, Dungeons
by ayumilove
Fusions
Heartpiercer is not part of any fusion
---
Updated on 2021-03-28