Hexia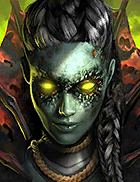 Grave Rot
Attacks 1 enemy. Has a 40% chance of placing a 60% [Decrease DEF] debuff for 2 turns. This chance increases by 20% for each debuff placed on this Champion.
Damage based on: [ATK]
Level 2: Damage +5%
Level 3: Damage +5%
Level 4: Damage +5%
Level 5: Damage +5%

Soulreap
Cooldown: 3 turns
Attacks 1 enemy. Grants an Extra Turn and places a 50% [Increase ATK] buff on this Champion for 2 turns if this attack kills an enemy. Damage increases by 7.5% for each debuff on this Champion. Stacks up to 30%.
Damage based on: [ATK]
Level 2: Damage +5%
Level 3: Damage +5%
Level 4: Damage +5%

Spirit Harvest
Cooldown: 4 turns
Attacks 1 enemy. Heals this Champion by 15% of damage inflicted. The heal increases by 10% for each debuff on this Champion. Places a 30% [Increase SPD] buff on this Champion for 2 turns.
Damage based on: [ATK]
Level 2: Damage +5%
Level 3: Damage +5%
Level 4: Cooldown -1

Aura
Increases Ally ATK in Faction Crypts by 27%.
Lore
Once a beautiful noble Lady of Kaerok, Hexia is said to have feared nothing but the relentless march of time. Knowing full well that her beauty will wane and rot away with age, she sought to prolong her youth through dark and terrible rituals. Some say she used the blood of young peasant women in hopes of preserving her body, others that she sacrificed anything and anyone, casting their souls into Siroth's embrace in exchange for sorcerous secrets and eternal youth. Such was her cruelty, that the people of her fief arose in rebellion. The castle was stormed and taken. Hexia herself had been dragged to a forest beyond the town walls and hanged on an old oak. Legend says that in her last breath, the vile sorceress cursed her former subjects and vowed vengeance. But even death was not the end for her, as the blood rituals Hexia performed allowed her spirit to remain, possessing her dead body once more and exacting a horrible price upon the townsfolk that dared take everything from her. Whether or not that is the case, the castle and the town surrounding it have been devastated by plague not a month after Hexia's execution and burned to a cinder to stop the disease from spreading. Even now, the burned-out ruins that sit upon a barren hill and are considered to be a blighted place by the locals. Some brave adventurers dare to stray into the ruined castle's catacombs in search of the sorceress' riches. The few that return in one piece speak in hushed whispers, warning all who would listen of a cruel banshee that jealously guards her former domain.
Ratings of Hexia
Location
Rating
Campaign
Arena
Offensive:
Defensive:
Clan boss
Without T6 mastery:
With T6 mastery:
Ice Golem's Peak
Dragon's Lair
Spider's Den
Fire Knight's Castle
Minotaur's Labyrinth
Force Keep
Magic Keep
Spirit Keep
Void Keep
Masteries advices
Advices regarding the mastery choice for Hexia.
T6: Warmaster or Giant Slayer?
Clan Boss
We recommend using Warmaster, the skill Grave Rot hits 1 time, which will benefit more to Warmaster than Giant Slayer.
Arena
We recommend using Warmaster in the Arena, despite the number of hits any skill from Hexia does.
Recommended builds for Hexia
For Arena, Campaign, Faction Wars
by ayumilove
ATK%, C.RATE, C.DMG, SPD, ACC
ATK%, C.RATE, C.DMG, SPD, ACC
ATK%, C.RATE, C.DMG, SPD, ACC
ATK%, C.RATE, C.DMG, SPD, ACC
For Arena, Campaign, Faction Wars
by ayumilove
ATK%, C.RATE, C.DMG, SPD, ACC
ATK%, C.RATE, C.DMG, SPD, ACC
ATK%, C.RATE, C.DMG, SPD, ACC
ATK%, C.RATE, C.DMG, SPD, ACC
For Clan Boss, Dungeons
by ayumilove
ATK%, C.RATE, C.DMG, SPD, ACC
ATK%, C.RATE, C.DMG, SPD, ACC
ATK%, C.RATE, C.DMG, SPD, ACC
ATK%, C.RATE, C.DMG, SPD, ACC
For Clan Boss, Dungeons
by ayumilove
ATK%, C.RATE, C.DMG, SPD, ACC
ATK%, C.RATE, C.DMG, SPD, ACC
ATK%, C.RATE, C.DMG, SPD, ACC
ATK%, C.RATE, C.DMG, SPD, ACC
Masteries for Hexia
For Arena, Campaign, Clan Boss, Dungeons, Faction Wars
by ayumilove
Fusions
Hexia is not part of any fusion
---
Updated on 2021-03-28