High Khatun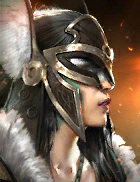 Rally the Horde
Cooldown: 4 turns
Fills the Turn Meters of all allies by 15% and places a 30% [Increase SPD] buff on all allies for 2 turns

Shamanic Lightning
Cooldown: 5 turns
Attacks all enemies. Has a 50% chance of decreasing the Turn Meter by 15%

Aura
Increases Ally SPD in all battles by 19%
Lore
In ages past, human nomads claimed the lands that spread from the dark groves of the Durham Forest to the plains of Tilshire. Fiercely independent and fiery-tempered, these tribes remained fragmented and mired in infighting for most of their history. Yet, sometimes, a great leader would arise and unite the "horse lords" – as the High Elves would mockingly call their neighbors – under a single banner. Devastating wars of conquest always followed, slowly chipping away at the Elven realm. It was not until the young Kingdom of Kaerok struck an alliance with Aravia that these barbarians were finally defeated and driven into the scorching sands of the Krokhan Desert where they dwell to this day. Though no longer a mighty nation that they were at the height of their power, the scattered tribes are still a force to be reconned with – and a source of highly-prized mercenaries for Nobles across Teleria. To this day, they cling to their tradition. Tribe chieftains are respectfully referred to as Khan or Khatun, and they are the most successful warriors that tribe has to offer. And the few individuals both fierce and cunning enough to gain control over several tribes? Well, those are bound to be extremely proficient leaders and warlords, whose ability to command free-spirited barbarians and direct them is going to be a useful boon to any force of Champions.
Ratings of High Khatun
Location
Rating
Campaign
Arena
Offensive:
Defensive:
Clan boss
Without T6 mastery:
With T6 mastery:
Ice Golem's Peak
Dragon's Lair
Spider's Den
Fire Knight's Castle
Minotaur's Labyrinth
Force Keep
Magic Keep
Spirit Keep
Void Keep
Masteries advices
Advices regarding the mastery choice for High Khatun.
T6: Warmaster or Giant Slayer?
Clan Boss
We don't have enough information about High Khatun to determine whether he should have Warmaster or Giant Slayer as T6 mastery.
Arena
We recommend using Warmaster in the Arena, despite the number of hits any skill from High Khatun does.
Recommended builds for High Khatun
For Arena, Campaign, Faction Wars
by ayumilove
For Arena, Campaign, Faction Wars
by ayumilove
For Arena, Campaign, Faction Wars
by ayumilove
For Clan Boss, Dungeons
by ayumilove
For Clan Boss, Dungeons
by ayumilove
Masteries for High Khatun
For Arena, Campaign, Clan Boss, Dungeons, Faction Wars
by ayumilove
Great videos on High Khatun
---
Updated on 2021-03-28