Hill Nomad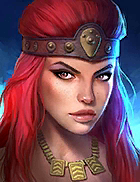 Sandstorm Blade
Attacks 1 enemy. Has a 50% chance of placing a 25% [Decrease ATK] debuff for 2 turns.
Damage based on: [ATK]
Level 2: Damage +5%
Level 3: Damage +5%
Level 4: Damage +5%
Level 5: Damage +5%

Nomad's Endurance
Cooldown: 3 turns
Places a 7.5% [Continuous Heal] buff on an ally for 2 turns.
Level 2: Cooldown -1

Ambush Tactics
Cooldown: 4 turns
Places a [Veil] buff on an ally for 1 turn and a 25% [Increase ATK] buff for 2 turns. Also places a [Shield] buff on this Champion equal to 20% of their MAX HP for 2 turns.
Level 2: Shield +5%
Level 3: Shield +5%
Level 4: Shield +5%
Level 5: Shield +5%
Level 6: Cooldown -1
Lore
Though archers remain, arguably, the most feared battle formation of the nomads that roam the Deadlands, underestimating their other warriors – especially those of the Hill Nomads – would be a grave mistake indeed. A bow is not required to know the dunes like the palm of their hand, nor to move unseen through the sandstorms that would have a foreigner running for cover. Trained to the point of understanding nature instinctively, these Nomads can lead their allies through the most daunting terrain and help them set up a deadly ambush for the foe. And their knowledge of the herbs allows them to always carry surprisingly effective healing salves with them, ensuring that warriors that count the Hill Nomad among their friends can always receive timely aid for their injuries.
Ratings of Hill Nomad
Location
Rating
Campaign
Arena
Offensive:
Defensive:
Clan boss
Without T6 mastery:
With T6 mastery:
Ice Golem's Peak
Dragon's Lair
Spider's Den
Fire Knight's Castle
Minotaur's Labyrinth
Force Keep
Magic Keep
Spirit Keep
Void Keep
Masteries advices
Advices regarding the mastery choice for Hill Nomad.
T6: Warmaster or Giant Slayer?
Clan Boss
We recommend using Warmaster, the skill Sandstorm Blade hits 0 time, which will benefit more to Warmaster than Giant Slayer.
Arena
We recommend using Warmaster in the Arena, despite the number of hits any skill from Hill Nomad does.
Recommended builds for Hill Nomad
For Arena, Campaign, Faction Wars
by ayumilove
divine-speed, immortal, immortal
For Arena, Campaign, Faction Wars
by ayumilove
For Clan Boss, Dungeons
by ayumilove
For Clan Boss, Dungeons
by ayumilove
Masteries for Hill Nomad
For Arena, Campaign, Clan Boss, Dungeons, Faction Wars
by ayumilove
---
Updated on 2021-03-28