Hollow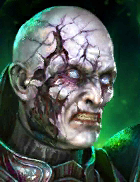 Bleed Away
Attacks 1 enemy. Has a 10% chance of placing a 2.5% [Poison] debuff for 2 turns.
Damage based on: [ATK]
Level 2 Damage +5%
Level 3 Buff/Debuff Chance +5%
Level 4 Buff/Debuff Chance +5%
Level 5 Damage +10%

Creeping Dark
Cooldown: 3 turns
Attacks 1 enemy 4 times. Each hit decreases the target's Turn Meter and fills this Champion's Turn Meter by 5%.
Damage based on: [ATK]
Level 2 Damage +5%
Level 3 Damage +5%
Level 4 Damage +10%
Level 5 Cooldown -1

Aether Strike
Cooldown: 5 turns
Attacks 1 enemy. Will ignore 25% of the target's DEF.
Damage based on: [ATK]
Level 2 Damage +5%
Level 3 Damage +5%
Level 4 Damage +10%
Level 5 Cooldown -1

Aura
Increases Ally ATK in Dungeons by 21%
Lore
Siroth's minions have brought the curse of undeath unto the world long ago, seeking to swell the ranks of their armies when the demons were sealed and imprisoned beyond Teleria's realm. Shambling skeletons and risen corpses may not be bright, but what they lack in intelligence they make up for in sheer number. Yet, not all Undead are witless marionettes. Some servants of Shadow consign their souls and Shards to their dark masters, and after death retain a spark of their former self. And with it, their skills and talents. Once a master hunter, the Hollow remains dangerous with his bow even as a rotting corpse, capable of finding chinks in even the toughest armour.
Ratings of Hollow
Location
Rating
Campaign
Arena
Offensive:
Defensive:
Clan boss
Without T6 mastery:
With T6 mastery:
Ice Golem's Peak
Dragon's Lair
Spider's Den
Fire Knight's Castle
Minotaur's Labyrinth
Force Keep
Magic Keep
Spirit Keep
Void Keep
Synergy
Hollow's abilities can be paired with the following champions for better results.
Poison and Counterattack
Mixing a champion having A1 applying a Poison debuff, and a champion able to place a counterattack buff on him, is a very good situational synergy that can be impressive during Clan Boss battles.
Masteries advices
Advices regarding the mastery choice for Hollow.
T6: Warmaster or Giant Slayer?
Clan Boss
We recommend using Warmaster, the skill Bleed Away hits 1 time, which will benefit more to Warmaster than Giant Slayer.
Arena
We recommend using Warmaster in the Arena, despite the number of hits any skill from Hollow does.
Recommended builds for Hollow
For Arena, Campaign, Faction Wars
by ayumilove
ATK%, C.RATE, C.DMG, SPD, ACC
ATK%, C.RATE, C.DMG, SPD, ACC
ATK%, C.RATE, C.DMG, SPD, ACC
ATK%, C.RATE, C.DMG, SPD, ACC
For Arena, Campaign, Faction Wars
by ayumilove
ATK%, C.RATE, C.DMG, SPD, ACC
ATK%, C.RATE, C.DMG, SPD, ACC
ATK%, C.RATE, C.DMG, SPD, ACC
ATK%, C.RATE, C.DMG, SPD, ACC
For Clan Boss, Dungeons
by ayumilove
ATK%, C.RATE, C.DMG, SPD, ACC
ATK%, C.RATE, C.DMG, SPD, ACC
ATK%, C.RATE, C.DMG, SPD, ACC
ATK%, C.RATE, C.DMG, SPD, ACC
For Clan Boss, Dungeons
by ayumilove
ATK%, C.RATE, C.DMG, SPD, ACC
ATK%, C.RATE, C.DMG, SPD, ACC
ATK%, C.RATE, C.DMG, SPD, ACC
ATK%, C.RATE, C.DMG, SPD, ACC
Masteries for Hollow
For Arena, Campaign, Clan Boss, Dungeons, Faction Wars
by ayumilove
---
Updated on 2021-03-28