Honor Guard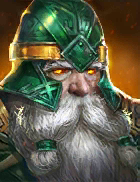 Bell Ringer
Attacks 1 enemy.
Has a 50% chance of placing a 25% [Decrease ACC] debuff for 2 turns if the target has no active buffs.
Damage based on: [DEF]

Fate Transfer
Cooldown: 4 turns
Attacks 1 enemy.
Has a 50% chance of stealing 2 random buffs from the target.
Damage based on: [DEF]

Astral Chain
Attacks 1 enemy.
Has a 75% chance of placing a [Block Buffs] debuff for 2 turns.
Damage based on: [DEF]

Aura
Increases Force Ally DEF in all battles by 25%
Lore
Although the Dwarves prefer to rely on their craft, magic is not alien to them. Indeed, many of the arms and amour that come out of their blazing forges are enchanted with a variety of spells. But some go further than that still. It is not uncommon for wealthy Jarls to arm their best warriors with equipment that has been steeped in magic or hexed in a very specific way. Weapons that dissipate and block the foe's own magical enhancements are a particularly popular choice. Sometimes, the warriors themselves are subjected to a variety of spells to strengthen them or even just change their appearance to a more intimidating one.
Ratings of Honor Guard
Location
Rating
Campaign
Arena
Offensive:
Defensive:
Clan boss
Without T6 mastery:
With T6 mastery:
Ice Golem's Peak
Dragon's Lair
Spider's Den
Fire Knight's Castle
Minotaur's Labyrinth
Force Keep
Magic Keep
Spirit Keep
Void Keep
Masteries advices
Advices regarding the mastery choice for Honor Guard.
T6: Warmaster or Giant Slayer?
Clan Boss
We don't have enough information about Honor Guard to determine whether he should have Warmaster or Giant Slayer as T6 mastery.
Arena
We recommend using Warmaster in the Arena, despite the number of hits any skill from Honor Guard does.
Recommended builds for Honor Guard
For Arena, Campaign, Faction Wars
by ayumilove
For Clan Boss, Dungeons
by ayumilove
Masteries for Honor Guard
For Arena, Campaign, Clan Boss, Dungeons, Faction Wars
by ayumilove
---
Updated on 2021-03-28