Ifrit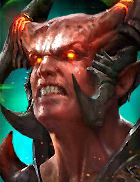 Feebleness Curse
Attacks 1 enemy. Places a 15% [Weaken] debuff for 1 turn.
Level 2 Damage +5%
Level 3 Damage +5%
Level 4 Damage +5%
Level 5 Damage +10%

Withering Bolt
Cooldown: 4 turns
Attacks 1 enemy. Places a 25% [Decrease ATK] debuff for 2 turns. Damage increases according to this Champion's MAX HP.
Damage based on: [ATK] [HP]
Level 2 Damage +5%
Level 3 Damage +5%
Level 4 Damage +5%
Level 5 Damage +5%
Level 6 Cooldown -1

Shadow Field
Decreases the damage received by 50% if damage from a single hit exceeds 30% HP. Places a 30% [Decrease DEF] debuff for 2 turns on the attacker if the attack is critical.

Aura
Increases Ally HP in all battles by 15%
Lore
Ifrits are a particular demonbreed that stands above the common foot soldiers of Siroth's hellish hierarchy. Often compared to wasps for their somewhat insectoid appearance and frequent reliance on sting-like spears, Ifrits are usually found at the head of smaller Demonspawn cohorts. Dark magic swirls around them like an unseen mist, allowing their unholy strikes to sap away the strength of their victims or even hex those that have the skill and courage to attack them.
Ratings of Ifrit
Location
Rating
Campaign
Arena
Offensive:
Defensive:
Clan boss
Without T6 mastery:
With T6 mastery:
Ice Golem's Peak
Dragon's Lair
Spider's Den
Fire Knight's Castle
Minotaur's Labyrinth
Force Keep
Magic Keep
Spirit Keep
Void Keep
Masteries advices
Advices regarding the mastery choice for Ifrit.
T6: Warmaster or Giant Slayer?
Clan Boss
We recommend using Warmaster, the skill Feebleness Curse hits 1 time, which will benefit more to Warmaster than Giant Slayer.
Arena
We recommend using Warmaster in the Arena, despite the number of hits any skill from Ifrit does.
Recommended builds for Ifrit
For Arena, Campaign, Faction Wars
by ayumilove
ATK%, C.RATE, C.DMG, SPD, ACC
ATK%, C.RATE, C.DMG, SPD, ACC
ATK%, C.RATE, C.DMG, SPD, ACC
ATK%, C.RATE, C.DMG, SPD, ACC
For Clan Boss, Dungeons
by ayumilove
ATK%, C.RATE, C.DMG, SPD, ACC
ATK%, C.RATE, C.DMG, SPD, ACC
ATK%, C.RATE, C.DMG, SPD, ACC
ATK%, C.RATE, C.DMG, SPD, ACC
For Clan Boss, Dungeons
by ayumilove
ATK%, C.RATE, C.DMG, SPD, ACC
ATK%, C.RATE, C.DMG, SPD, ACC
ATK%, C.RATE, C.DMG, SPD, ACC
ATK%, C.RATE, C.DMG, SPD, ACC
Masteries for Ifrit
For Arena, Campaign, Clan Boss, Dungeons, Faction Wars
by ayumilove
---
Updated on 2021-03-28