Interceptor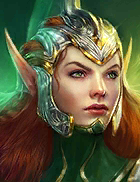 Ward Off
Cooldown: 6 turns
Decreases the Turn Meter of all enemies by 15%
Lore
The Palace of Aravia attracts many thieves, spies, and even would-be assassins. The Queen's Royal Guard have their job cut out for them and number in the hundreds, a number that is just enough to cover the gargantuan complex. Among the Guard, Interceptors play a special role. Their duty is to capture the perpetrators alive, if at all possible. To that end, they are trained in techniques to incapacitate and force their target to surrender. They are even given a special alchemical solution that would put a troll to sleep, if properly delivered.
Ratings of Interceptor
Location
Rating
Campaign
Arena
Offensive:
Defensive:
Clan boss
Without T6 mastery:
With T6 mastery:
Ice Golem's Peak
Dragon's Lair
Spider's Den
Fire Knight's Castle
Minotaur's Labyrinth
Force Keep
Magic Keep
Spirit Keep
Void Keep
Masteries advices
Advices regarding the mastery choice for Interceptor.
T6: Warmaster or Giant Slayer?
Clan Boss
We don't have enough information about Interceptor to determine whether he should have Warmaster or Giant Slayer as T6 mastery.
Arena
We recommend using Warmaster in the Arena, despite the number of hits any skill from Interceptor does.
Recommended builds for Interceptor
For Arena, Campaign, Faction Wars
by ayumilove
DEF%, C.RATE, C.DMG, SPD, ACC
DEF%, C.RATE, C.DMG, SPD, ACC
DEF%, C.RATE, C.DMG, SPD, ACC
DEF%, C.RATE, C.DMG, SPD, ACC
For Clan Boss, Dungeons
by ayumilove
DEF%, C.RATE, C.DMG, SPD, ACC
DEF%, C.RATE, C.DMG, SPD, ACC
DEF%, C.RATE, C.DMG, SPD, ACC
DEF%, C.RATE, C.DMG, SPD, ACC
For Clan Boss, Dungeons
by ayumilove
DEF%, C.RATE, C.DMG, SPD, ACC
DEF%, C.RATE, C.DMG, SPD, ACC
DEF%, C.RATE, C.DMG, SPD, ACC
DEF%, C.RATE, C.DMG, SPD, ACC
Masteries for Interceptor
For Arena, Campaign, Clan Boss, Dungeons, Faction Wars
by ayumilove
Great videos on Interceptor
---
Updated on 2021-03-28