Jotun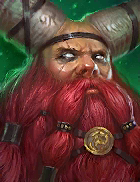 Brute Strength
Attacks 1 enemy. Has a 30% chance of placing a 30% [Decrease DEF] debuff for 2 turns.
Damage based on: [HP]
Level 2: Damage +5%
Level 3: Damage +5%
Level 4: Buff/Debuff Chance +5%
Level 5: Buff/Debuff Chance +5%

Burning Blade
Cooldown: 4 turns
Attacks 1 enemy. Has a 75% chance of placing a [HP Burn] debuff for 4 turns.
Damage based on: [HP]
Level 2: Damage +5%
Level 3: Damage +5%
Level 4: Buff/Debuff Chance +10%
Level 5: Buff/Debuff Chance +15%
Level 6: Cooldown -1

Sear Away
Cooldown: 6 turns
Attacks 1 enemy. Decreases the target's MAX HP by 30% of the damage inflicted. Damage increases by 50% if the target is under a [HP Burn] debuff.
Damage based on: [HP]
Level 2: Damage +5%
Level 3: Damage +5%
Level 4: Damage +10%
Level 5: Cooldown -1

Aura
Increases Ally HP in Faction Crypts by 29%.
Lore
Jotuns are a race of strong and proud warriors that hail from the frozen North of Teleria. Larger and stronger than a typical human or elf, they are easily distinguishable by the horns that crown their heads. Though they have a long-standing tradition of martial prowess, the once mighty Jotuns have been in decline for centuries. Most tribes have been forced to leave their homeland and band together with other exiles, adding their strength to Barbarian groups or mercenary bands. Though they all share an affinity with powers from beyond the material realm, some Jotuns can manifest these powers and add them to their already impressive arsenal. This Champion, in particular, has been marked by primordial fire – or so he believes – which marks him by the bright red colour of his hair, and the ability to summon flames that engulf the blade of his sword.
Ratings of Jotun
Location
Rating
Campaign
Arena
Offensive:
Defensive:
Clan boss
Without T6 mastery:
With T6 mastery:
Ice Golem's Peak
Dragon's Lair
Spider's Den
Fire Knight's Castle
Minotaur's Labyrinth
Force Keep
Magic Keep
Spirit Keep
Void Keep
Masteries advices
Advices regarding the mastery choice for Jotun.
T6: Warmaster or Giant Slayer?
Clan Boss
We recommend using Warmaster, the skill Brute Strength hits 1 time, which will benefit more to Warmaster than Giant Slayer.
Arena
We recommend using Warmaster in the Arena, despite the number of hits any skill from Jotun does.
Recommended builds for Jotun
For Arena, Campaign, Faction Wars
by ayumilove
ATK%, C.RATE, C.DMG, SPD, ACC
ATK%, C.RATE, C.DMG, SPD, ACC
ATK%, C.RATE, C.DMG, SPD, ACC
ATK%, C.RATE, C.DMG, SPD, ACC
For Clan Boss, Dungeons
by ayumilove
ATK%, C.RATE, C.DMG, SPD, ACC
ATK%, C.RATE, C.DMG, SPD, ACC
ATK%, C.RATE, C.DMG, SPD, ACC
ATK%, C.RATE, C.DMG, SPD, ACC
For Clan Boss, Dungeons
by ayumilove
ATK%, C.RATE, C.DMG, SPD, ACC
ATK%, C.RATE, C.DMG, SPD, ACC
ATK%, C.RATE, C.DMG, SPD, ACC
ATK%, C.RATE, C.DMG, SPD, ACC
Masteries for Jotun
For Clan Boss
by ayumilove
For Clan Boss
by ayumilove
Fusions
Jotun is not part of any fusion
---
Updated on 2021-03-28