Kallia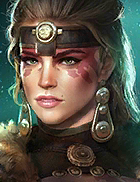 Superheated Hammer
Attacks 1 enemy. Has a 30% chance of placing a [HP Burn] debuff for 2 turns. Heals this Champion by 30% of the damage inflicted when Atur is on the same team.
Damage based on: [ATK]
Level 2: Damage +5%
Level 3: Damage +5%
Level 4: Damage +10%
Level 5: Buff/Debuff Chance +10%

Curse of Nullity
Cooldown: 4 turns
Attacks all enemies. Has a 50% chance of placing a 100% [Heal Reduction] debuff for 2 turns. Heals this Champion by 10% of the damage inflicted when Atur is on the same team.
Damage based on: [ATK]
Level 2: Damage +5%
Level 3: Damage +5%
Level 4: Buff/Debuff Chance +10%
Level 5: Buff/Debuff Chance +15%
Level 6: Cooldown -1

Flame Tempest
Cooldown: 5 turns
Attacks 3 times at random. Each hit has a 60% chance of placing a [HP Burn] debuff for 2 turns. Heals this Champion by 15% of the damage inflicted when Atur is on the same team
Damage based on: [ATK]
Level 2: Damage +5%
Level 3: Damage +5%
Level 4: Damage +10%
Level 5: Cooldown -1

Aura
Increases Ally ATK in all battles by 25%
Lore
Even those that live the lives full of hardship and primal strife among the Barbarian tribes are not immune to love. Atur, one of the mightiest warriors of his tribe, has always been a vain and arrogant man. He had every right to be proud, of course, for none could face him in a battle of equals and walk away victorious. None, until he met Kallia, whose prowess and ability to fly into relentless fury are as immense as her beauty. Neither of them truly remembers what sparked the conflict between them, both will, of course, blame their other half. Regardless of the truth of the matter, an argument went out of control, and a battle of words, in which even Atur himself admits he took a thorough thrashing, turned to fisticuffs. Here, their passion for a fight was evenly matched and soon turned to passion for each other. Though Barbarians are not exactly sophisticated, if not outright crude, by the standards of Kaerok or Aravia, Atur's and Kallia's relationship still blossomed into something sweet and loving… in its own way. It is certainly as strong as the mountains that surround their home, and as wild as the sandstorms that sweep the Deadlands.
Ratings of Kallia
Location
Rating
Campaign
Arena
Offensive:
Defensive:
Clan boss
Without T6 mastery:
With T6 mastery:
Ice Golem's Peak
Dragon's Lair
Spider's Den
Fire Knight's Castle
Minotaur's Labyrinth
Force Keep
Magic Keep
Spirit Keep
Void Keep
Masteries advices
Advices regarding the mastery choice for Kallia.
T6: Warmaster or Giant Slayer?
Clan Boss
We recommend using Warmaster, the skill Superheated Hammer hits 1 time, which will benefit more to Warmaster than Giant Slayer.
Arena
We recommend using Warmaster in the Arena, despite the number of hits any skill from Kallia does.
Recommended builds for Kallia
For Arena, Campaign, Faction Wars
by ayumilove
ATK%, C.RATE, C.DMG, SPD, ACC
ATK%, C.RATE, C.DMG, SPD, ACC
ATK%, C.RATE, C.DMG, SPD, ACC
Gauntlets
(
C.RATE / C.DMG
)
ATK%, C.RATE, C.DMG, SPD, ACC
For Clan Boss, Dungeons
by ayumilove
Chestplate
(
DEF% / HP% / ACC
)
Masteries for Kallia
For Arena, Campaign, Clan Boss, Dungeons, Faction Wars
by ayumilove
Fusions
Kallia is not part of any fusion
---
Updated on 2021-03-28