Karam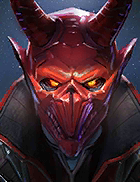 Bloodstained Swords
Attacks 1 enemy. Has a 30% chance of placing a 5% [Poison] debuff for 2 turns.
Damage based on: [ATK]
Level 2 Buff/Debuff Chance +5%
Level 3 Buff/Debuff Chance +5%
Level 4 Buff/Debuff Chance +10%

Fit of Rage
Cooldown: 4 turns
Attacks 1 enemy. Has an extra 15% chance of inflicting a critical hit. Damage increases according to the amount of HP this Champion has lost.
Damage based on: [ATK]
Level 2 Damage +5%
Level 3 Damage +5%
Level 4 Damage +10%
Level 5 Cooldown -1

Rot Away
Cooldown: 6 turns
Attacks 1 enemy. Deals damage from all [Poison] debuffs on the target instantly.
Damage based on: [ATK]
Level 2 Damage +5%
Level 3 Damage +5%
Level 4 Cooldown -1
Level 5 Cooldown -1

Aura
Increases Ally ACC in Faction Crypts by 40
Ratings of Karam
Location
Rating
Campaign
Arena
Offensive:
Defensive:
Clan boss
Without T6 mastery:
With T6 mastery:
Ice Golem's Peak
Dragon's Lair
Spider's Den
Fire Knight's Castle
Minotaur's Labyrinth
Force Keep
Magic Keep
Spirit Keep
Void Keep
Synergy
Karam's abilities can be paired with the following champions for better results.
Poison and Counterattack
Mixing a champion having A1 applying a Poison debuff, and a champion able to place a counterattack buff on him, is a very good situational synergy that can be impressive during Clan Boss battles.
Masteries advices
Advices regarding the mastery choice for Karam.
T6: Warmaster or Giant Slayer?
Clan Boss
We recommend using Warmaster, the skill Bloodstained Swords hits 1 time, which will benefit more to Warmaster than Giant Slayer.
Arena
We recommend using Warmaster in the Arena, despite the number of hits any skill from Karam does.
Recommended builds for Karam
For Arena, Campaign, Faction Wars
by ayumilove
ATK%, C.RATE, C.DMG, SPD, ACC
ATK%, C.RATE, C.DMG, SPD, ACC
ATK%, C.RATE, C.DMG, SPD, ACC
ATK%, C.RATE, C.DMG, SPD, ACC
For Clan Boss, Dungeons
by ayumilove
ATK%, C.RATE, C.DMG, SPD, ACC
ATK%, C.RATE, C.DMG, SPD, ACC
ATK%, C.RATE, C.DMG, SPD, ACC
ATK%, C.RATE, C.DMG, SPD, ACC
Masteries for Karam
For Arena, Campaign, Clan Boss, Dungeons, Faction Wars
by ayumilove
Fusions
Karam is not part of any fusion
---
Updated on 2021-03-28