Longbeard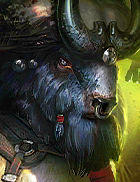 Unstoppable Force
Attacks 1 enemy. Will ignore [Shield] and [Block Damage] buffs.
Damage based on: [ATK]
Level 2 Damage +5%
Level 3 Damage +5%
Level 4 Damage +10%

Brittleness Curse
Cooldown: 3 turns
Attacks 1 enemy. Places a 25% [Weaken] debuff for 2 turns.
Damage based on: [ATK]
Level 2 Damage +5%
Level 3 Damage +5%
Level 4 Damage +10%
Level 5 Cooldown -1

Horde's Fury
Cooldown: 5 turns
Attacks 1 enemy with 4 allies. Increases the damage inflicted by allies by 20%.
Level 2 Cooldown -1

Aura
Increases Ally C.RATE in Dungeons by 23%
Lore
As Skinwalkers shaman tell it, at Ghaar Khan's birth, divine signs indicated he would consolidate the scattered Skinwalkers clans into one horde. As Ghaar grew, he the truth of the prophecy was revealed. By defeating his enemies, forming alliances, and winning the loyalty of others, he managed to unite or subdue the several great nomadic tribes under his rule. At the Council of Elders, he was acknowledged as ""Khan"" and gifted with a mace made of the Holy Sheep's head – the Skinwalkers symbol of might and power.
Ratings of Longbeard
Location
Rating
Campaign
Arena
Offensive:
Defensive:
Clan boss
Without T6 mastery:
With T6 mastery:
Ice Golem's Peak
Dragon's Lair
Spider's Den
Fire Knight's Castle
Minotaur's Labyrinth
Force Keep
Magic Keep
Spirit Keep
Void Keep
Masteries advices
Advices regarding the mastery choice for Longbeard.
T6: Warmaster or Giant Slayer?
Clan Boss
We recommend using Warmaster, the skill Unstoppable Force hits 1 time, which will benefit more to Warmaster than Giant Slayer.
Arena
We recommend using Warmaster in the Arena, despite the number of hits any skill from Longbeard does.
Recommended builds for Longbeard
For Arena, Campaign, Faction Wars
by ayumilove
ATK%, C.RATE, C.DMG, SPD, ACC
ATK%, C.RATE, C.DMG, SPD, ACC
ATK%, C.RATE, C.DMG, SPD, ACC
ATK%, C.RATE, C.DMG, SPD, ACC
ATK%, C.RATE, C.DMG, SPD, ACC
For Clan Boss, Dungeons
by ayumilove
ATK%, C.RATE, C.DMG, SPD, ACC
ATK%, C.RATE, C.DMG, SPD, ACC
ATK%, C.RATE, C.DMG, SPD, ACC
ATK%, C.RATE, C.DMG, SPD, ACC
ATK%, C.RATE, C.DMG, SPD, ACC
Masteries for Longbeard
For everywhere
by ayumilove
Fusions
Longbeard is not part of any fusion
Great videos on Longbeard
---
Updated on 2021-03-28