Madman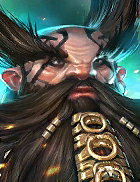 Wild Slashing
Attacks 1 enemy. Has a 50% chance of attacking all other enemies with a second hit, dealing 30% of the damage inflicted from the first hit.
Damage based on: [ATK]

Insane Resilience
Cooldown: 4 turns
Attacks all enemies. Heals this Champion by 10% of the damage inflicted if this Champion's current HP is below 50%.
Damage based on: [ATK]

Crazed Lunge
Cooldown: 4 turns
Attacks 1 enemy. Will ignore 30% of the target's DEF. Ignores [Block Damage] and [Shield] buffs.
Damage based on: [ATK]
Lore
Even among the criminals and outcasts of society, there are those who may yet rise to greatness and, perhaps, even find redemption. Though few know the Madman's name – and fewer still care – he has already managed to make a mark on the surface. Indeed, when a screeching and heavily tattooed Dwarf charges at a horde of undead before your very eyes, forgetting it will prove difficult. Once, he was a gang leader, a merciless and unprincipled scoundrel who would rob and intimidate the honest folk to get what he wants. His exile must have set a few things right – or unhinged him even further. So when an opportunity for pardon had presented itself, this Madman took it gladly. Though hardly a sophisticated fighter, he can still offer his blade and fights with crazed determination, slashing and stabbing at his foes like a wild animal.
Ratings of Madman
Location
Rating
Campaign
Arena
Offensive:
Defensive:
Clan boss
Without T6 mastery:
With T6 mastery:
Ice Golem's Peak
Dragon's Lair
Spider's Den
Fire Knight's Castle
Minotaur's Labyrinth
Force Keep
Magic Keep
Spirit Keep
Void Keep
Masteries advices
Advices regarding the mastery choice for Madman.
T6: Warmaster or Giant Slayer?
Clan Boss
We don't have enough information about Madman to determine whether he should have Warmaster or Giant Slayer as T6 mastery.
Arena
We recommend using Warmaster in the Arena, despite the number of hits any skill from Madman does.
Recommended builds for Madman
For Arena, Campaign, Faction Wars
by ayumilove
For Clan Boss, Dungeons
by ayumilove
Masteries for Madman
For Arena, Campaign, Clan Boss, Dungeons, Faction Wars
by ayumilove
---
Updated on 2021-03-28